Senate Democrats decline to attempt veto override of SB171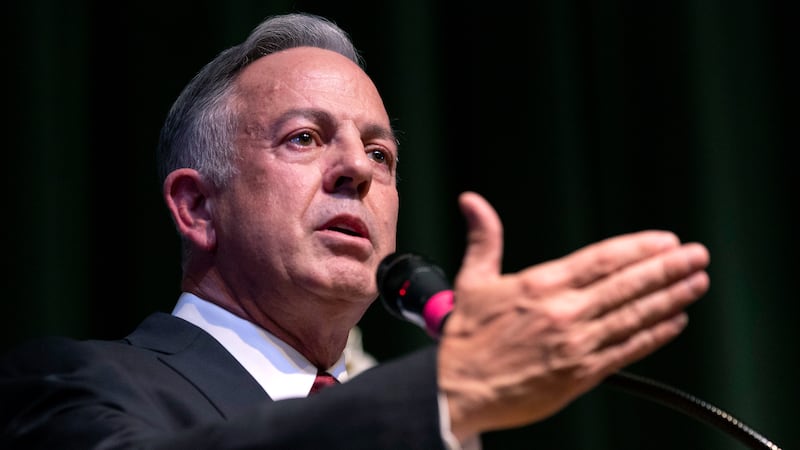 Published: May. 17, 2023 at 12:03 PM PDT
CARSON CITY, Nev. (KOLO) - Update on May 29: The Nevada Senate will not take up a vote on whether to override the Governor's veto of SB171.
The bill was one of three Lombardo vetoed earlier this month.
An overriding of the veto would have required a two-thirds majority.
Original Article: Nevada Governor Joe Lombardo has vetoed all three gun bills placed on his desk.
SB171, AB354, and AB355 all passed the Nevada Legislature on Monday.
AB355 would have raised the age to buy a semi-automatic rifle to 21. In his veto of the bill, Lombardo said similar legislation has already been struck down by the Ninth Circuit Court of Appeals on the grounds that it is unconstitutional to bar people under 21 from possessing such firearms.
SB171 would have prevented a person convicted of a hate crime from owning a firearm for a period of 10 years following the conviction. Lombardo stated that SB171 would go much further than existing laws on hate crimes and deprive individuals of the right to bear arms.
He also said that there is a "limited nexus between misdemeanor offenses and gun violence (that) makes it untenable to pass a law that immediately putting the defendant's Second Amendment rights in jeopardy." According to Lombardo, SB171 would also open the door for more laws restricting those convicted of gross misdemeanors from owning guns.
AB354 would have prevented the possession of a firearm within a certain distance of an election site. While he called the goals of the bill commendable, he said scope of the bill is too broad, and that there is no notable history of gun violence at election facilities in Nevada.
He said the bill would replicate federal and state laws prohibiting intimidation at or near a ballot box. He also called the bill "impermissibly vague" in relation to its 100 feet gun free radius surrounding a ballot box, and that such ballot boxes are common in gathering locations across Nevada.
He concluded his assessment of AB354 by saying the bill's aim to end the transfer of certain firearm parts and receivers would place a burden on lawful gun activity.
"I will not support legislation that infringes on the constitutional rights of Nevadans," said Lombardo. "As I stated in my letters, much of the legislation I vetoed today is in direct conflict with legal precedent and established constitutional protections. Therefore, I cannot support them."
Nevada Senator Dallas Harris, a Democrat who sponsored SB 171, spoke against the vetoes Wednesday.
She said: "If not these three gun safety measures, then what? What is the Governor's plan to keep Nevada safe? The Governor who is a former Sheriff, whose job it is to protect our population. What is he going to do?"
Nevada Legislative Democrats also weighed in following the veto of the three bills.
"I desperately wish the Governor would put the safety of Nevadans over partisan politics," said Majority Floor Leader Sandra Jauregui who sponsored two of the bills.
"After his time consoling the families of the 1 October massacre, I expected the governor to have the basic empathy to realize his responsibility to prevent future mass shootings and gun violence tragedies. Too many Nevadans have lost their lives to gun violence and even more have been left as survivors, wondering when it will happen again. I never want a Nevadan to experience the trauma that I and so many have endured. I will continue to work on gun violence prevention measures during my time as an elected official."
Copyright 2023 KOLO. All rights reserved.