Nevada baseball blows out No. 24 Missouri State in first game of season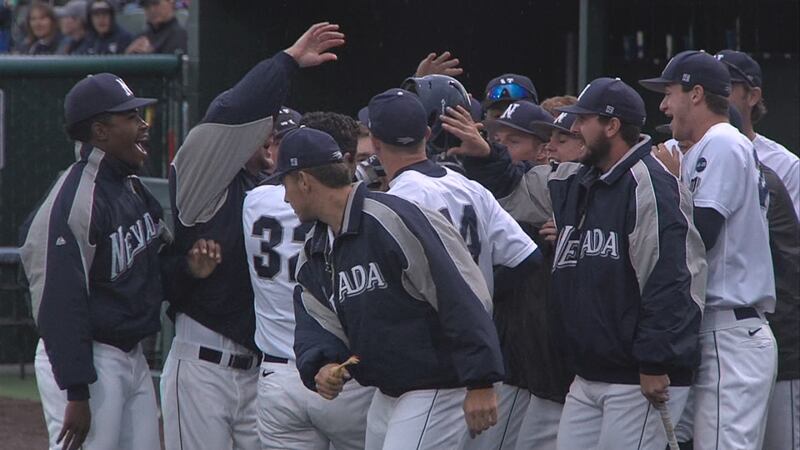 Published: Feb. 15, 2019 at 4:06 PM PST
The Nevada baseball team (1-0) exploded offensively to knock off No. 24 Missouri State (0-1) 16-4 behind four home runs from the Wolf Pack. Nevada's 16 runs are the most the Pack has scored in a season opener since at least 1974, the earliest statistical records have been recorded.
Junior Ryan Anderson (1-0) picked up the win for Nevada, giving up only four hits and one earned run in five innings. He tallied six strikeouts, just one off his career high. Missouri State's Logan Wiley suffered the loss. His final inning saw him get out of a bases-loaded jam with no damage done to preserve the Pack's 5-1 lead at the time.
Nevada's win this afternoon was head coach T.J. Bruce's first season-opening victory since joining the Wolf Pack.
Nevada scored in every inning in the contest except for the fourth, including senior Kaleb Foster getting the game started with an RBI in the first inning. The excitement continued into the second, when Weston Hatten scored a little-league home run via a triple and a fielding error. Foster's big day continued in the third when he launched a two-run homer to give the Pack a 4-0 lead.
Two members of the Pack tallied career-firsts, as sophomore Joshua Zamora and junior Daniel Perry each registered their first triples in the contest. Two of the biggest swings of the day came from junior Jaylon McLaughlin and senior Keaton Smith, who both launched no-doubt three-run home runs to put the game out of reach. Smith's came during a five-run eighth inning, the highest scoring on the day for Nevada, and McLaughlin led the Pack on the afternoon with four RBI.
The Bears burned through seven different pitchers, with only two of them pitching more than an inning. In relief of Anderson, Josh Congress and Shane Gustafson combined to throw three innings and only allowed one hit in their first-career appearances with the Wolf Pack. Jordan Jackson and Ben Purcell also appeared out of the bullpen for the Pack, tallying an inning pitched between the two.
Sophomore Tyler Bosetti finished the game with a bang, smacking a pinch-hit home run in his one plate appearance for the 16th and final run of the game. Hatten led the team with three hits and three runs scored while tallying an RBI, a double and a triple.
Nevada will be back in action tomorrow for round two of the Texas State Tournament, when they will face the hosting Bobcats at 2 p.m.