Tribal members get hands on with spawning trout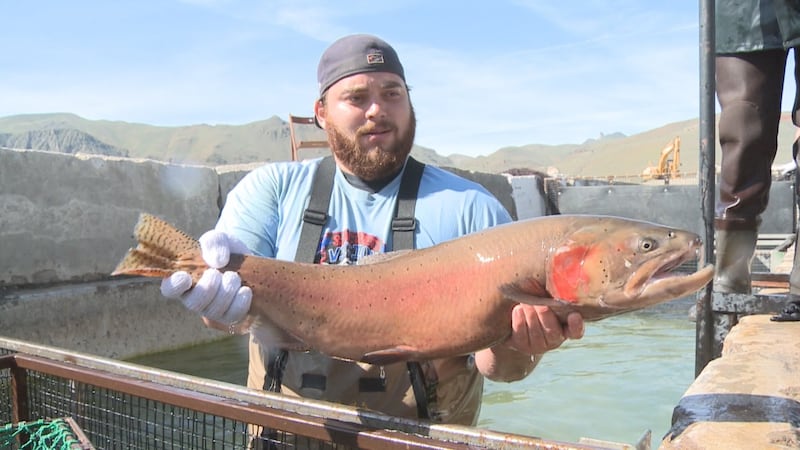 Published: Apr. 19, 2016 at 5:41 PM PDT
A federally-threatened species got some help boosting its populations April 19, 2016. Lahontan Cutthroat Trout received assistance in spawning from members of the Pyramid Lake Paiute Tribe and the U.S.Fish and Wildlife Service.
Instead of spawning naturally in the Truckee River, many of the fish spawn in an artificial channel created by the tribe. Swimming into the channel to spawn has become instinct for the fish.
"The fish from the lake are attracted to the baby fish growing in our hatchery," said Scott Carey, Business Manager for the Pyramid Lake Paiute Tribe.
Smells and water temperatures let these Lahontan Cutthroat know that April is the time to spawn.
"It is not every day you get to see 25-pound fish being spawned," said Tribal Chairman Vinton Hawley.
While the fish have the ability to spawn on their own, survival rates are higher if tribal members assist with spawning and the fish are raised in a hatchery.
"It is kinda the old school way to do it and it is a proven technique," said Brandon Brady, a tribal member who has helped with spawning since he was a kid.
The spawning process is simple. Eggs are squeezed out of the females into a small bowl, then sperm is squeezed out of the males. Mixing them together fertilizes the eggs. Eventually the eggs are taken to a hatchery where they will hatch in about 40 days.
"It allows us to get back in touch with our culture just by helping spawning and ensuring that the fish are going to be there for future generations," said Brady of the hands-on process.
One of those future generations was watching the process. Students from Mendive Middle School learned about the trout life cycle while visiting the hatchery.
"It is my understanding as part of their Nevada history and Nevada culture units they come out here as part of that," said Carey.
Passing on the knowledge of what it takes to maintain this fishery adds to the respect of the fishery and a respect of the wildlife itself.