The Keddie Murders: A cold case suddenly getting warm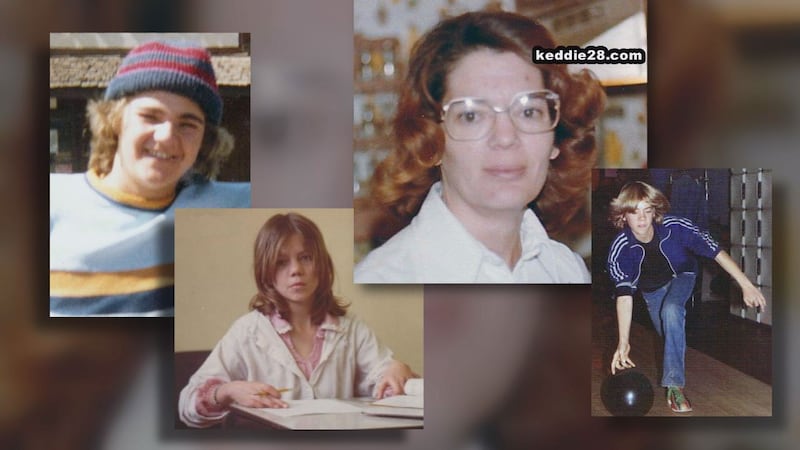 Published: Apr. 11, 2016 at 4:49 PM PDT
April 12, 1981, the bodies of 36-year-old Sue Sharp, her 15-year-old son John and his 17-year-old friend Dana Wingate were found in Cabin 28 at the Keddie Resort, north of Quincy. They had died the night before, bound, beaten and stabbed.
Sharp's 12-year-old daughter Tina was missing. Her remains would not be found for three years, 80 miles away in Butte County.
In 1981 Quincy was like many small towns, the kind of place where people didn't lock their doors, families felt safe. All that suddenly changed.
"People were locking their doors that never had," remembers Plumas County Sheriff's Special Investigator Mike Gamberg ."They weren't allowing their children, in essence, to be out at night."
Until two weeks before, Mike Gamberg had been an officer with the Plumas County Sheriff's office. He had been dismissed in an unrelated dispute with the man who was then sheriff.
Gamberg knew the Sharp family. It was a case he would like to have worked, but even after he was reinstated, he wasn't permitted anywhere near.
"They never told me why," said Gamberg.
Two men, Martin Smartt and John Boubede, who both had criminal records and lived next door to the Sharps in Cabin 26, were considered suspects at the time, but the investigation stalled. And apparently there was little trust in those days between area residents and their sheriff's office.
In any case, no arrests were ever made and, sooner perhaps than it should have, the case became simply a bad, frightening memory.
For most of the 35 years since, the case was never worked, but that has changed along with a good deal else.
Greg Hagwood was a 15-year-old freshman at Quincy High when the murders happened. In fact, he knew John Sharp and Dana Wingate.
Thirty-five years later he is sheriff in Plumas County and in a position to order the case reopened.
"For me personally and professionally it's been a dark cloud hanging over your shoulder," says Hagwood, adding there's no expiration date on justice.
In August 2013 he asked Gamberg, who had retired, to return to investigate the case he'd been kept from decades earlier.
"I jumped at the chance," said Gamberg. "The case was really fragmented. I basically had to rebuild the case."
It was, in fact, a mess, littered with missed opportunities, evidence lost or ignored.
"If the right things had been done. This thing would have been solved within weeks of the homicide."
Sheriff Hagwood admits he used to be defensive when he heard criticism of the job his predecessors had done. No more. Gamberg has new forensic tools to work with, the backing of his boss and something that didn't exist in 1981--social media.
Internet sites -- in particular one called
-- kept interest in the case alive, and slowly, as it became evident Gamberg and Sheriff Hagwood were serious about solving the case, information, perhaps held back all those years by distrust, fear or reluctance, began coming in.
"I'm telling you the internet went nuts," says Gamberg. "My phone was ringing off the hook."
It was through that link that Gamberg learned the sheriff's office had always had all those years an audio recording of an anonymous call from someone involved identifying the remains found in Butte County as those of Tina Sharp. It took 10 days of searching through boxes to find it. It had never been listened to.
"It was never even opened. I opened the audio tape myself."
Barely two weeks ago another tip to the website led to the discovery of a hammer near the crime scene in a location that suggests it was discarded not to be found. It matches the description of a hammer suspect Martin Smartt says he lost shortly before the murders. Gamberg believes it's one of the murder weapons.
The hammer and the audio tape are slated to be analyzed. This so-called cold case is suddenly getting very warm.
Smartt and Bobede are dead, but Gamberg and Sheriff Hagwood say there are still persons of interest alive who either took part in the murders or helped afterward. The statute of limitations may have passed on some crimes, but not others and there's no limit on homicide.
Both men can now see the possibility of bringing closure to this case 35 years later.
"I've got a good shot," says Gamberg. "It's better than good. I'm hoping with the notoriety of the case to let them know we're coming."
"It's our mission to find you and make sure you're held accountable for what you did," adds Sheriff Hagwood, speaking directly to anyone involved who may be reading or watching.
And what will that day be like?
"I think it's almost like vindication if that makes any sense," says Gamberg, his voice showing the emotion of someone invested in his work.
Anyone with information is asked to call the Plumas County Sheriff's office at (530) 283-6360.
At the request of Plumas County, Secret Witness has posted a $5,000 reward for information leading to arrest and prosecution. Their number is (775) 322-4900. Tips can also be left on line at www.secretwitness.com or texted to 847411 (TIP411) Keyword SW.