St. Mary's Regional Medical Center nurses asking for better work conditions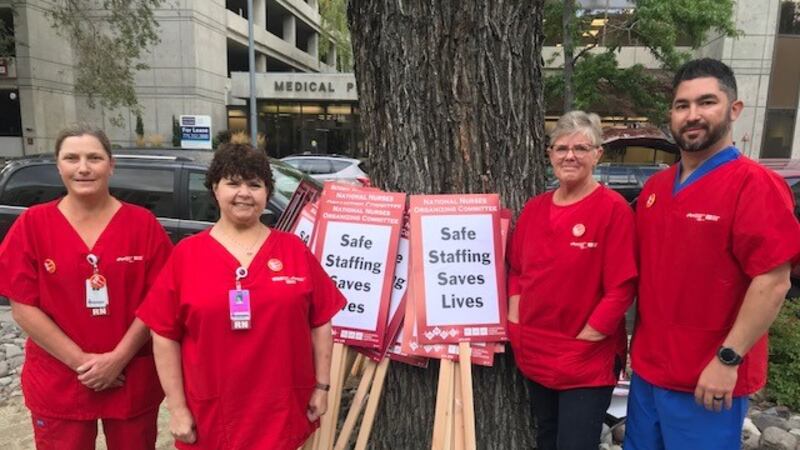 Published: Sep. 18, 2019 at 9:29 AM PDT
Local employees picketed in front of St. Mary's Regional Medical Center Wednesday. The hospital is owned and operated by Prime Healthcare and nurses are asking its employer for better work conditions.
The National Nurses United (NNU) Union said it prepared to reach an agreement with Prime Healthcare earlier this month, but according to the union the hospital withdrew from its previous proposals for a new contract.
The union said Prime Healthcare threatened to remove R.N. to patient ratios from the nurses' contract.
Nurses are also asking for professional development to improve nursing practice, and conditions to improve retention and recruitment of experienced nurses.
The union said nurses will picket to hold the hospital accountable and to make sure patients receive the healthcare they need and deserve.
Employee Tamara Erickson hopes the hospital and nurses can reach an agreement soon. "Today or tomorrow will be great, it is time to get back to the table and that is why we are here we need them back at the table, we need to get this done, we need to be sure that our patients are well cared for, and our nurses are well cared for."
Another employee added, "It is incredibly about the patients, that's why we are all here. We all became nurses to take care of the patients. We need to be able to take care of them safely and be able to have the staff to take care of them appropriately while we are doing our life saving interventions."
The hospital provided a statement to KOLO 8 News Now saying in part,"This is not a strike, and our hospital is fully staffed to serve all patients and visitors."
The statement continued, "We are committed to bargaining in good faith with NNU leadership, to reach an agreement in the best interests of our hospital, our employees, and most importantly, those whom we serve. Patient care remains our number one priority. Our goal is to move forward together as a united team, continuing to ensure Saint Mary's Regional Medical Center remains the best place for quality and compassionate patient care and a great place to work."