Reno Police Officer given Purple Heart after being shot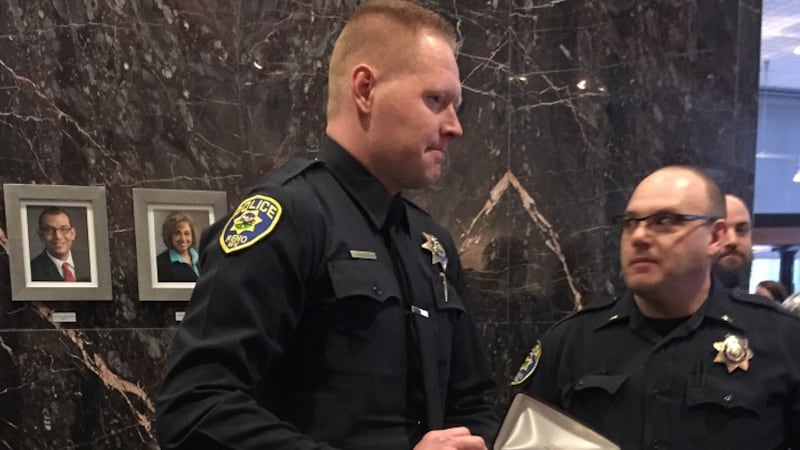 Published: Mar. 2, 2017 at 10:03 PM PST
Reno Police Chief Jason Soto has honored a Reno Police Officer with a Purple Heart, a year after a shooting in which the officer was hurt.
Officer Rand Hutson was given the medal at a Reno City Council meeting February 28, 2018. He was shot after a traffic stop March 2, 2017.
The Plumas County, California Sheriff's Office has arrested a 17-year-old suspect in the shooting of a Reno Police officer.
Sheriff Greg Hagwood confirms Erick Bernal was arrested at 4:45AM March 8, 2017 after three days of information gathering, surveillance and property searches. Hagwood says tips from northern Nevada police agencies led to information indicating Bernal was in Plumas County.
Hagwood says the arrest was the result of a traffic stop in Portola, and Bernal was arrested without incident. He was not armed, though Hagwood says a weapon was recovered elsewhere. There is no word when he will be brought back to Reno.
Police say the original incident unfolded about 9:38PM March 2, 2017, when officers pulled over a car on Kietzke Lane between Moana and Peckham, and at least one shot was fired from the car. Two people then got out of the car, still shooting, and wounded an officer, who is recovering after surgery and in stable condition. The name of that officer has not been released.
Police fired back, killing 25-year-old Rafael Navarro-Garcia. The other suspect, Bernal, ran off and went into hiding at a home in Plumas County, according to Sheriff Hagwood.
Police say Bernal goes by the name "Smokey" and is part of a gang that has been in the Reno area for 40 years. Officers had been watching him and his fellow gang members for at least a week.
Police said during the search for Bernal they believed he was injured, possibly with a gunshot wound. Police aren't saying whether the injuries were from the confrontation Thursday night, or from a previous incident. Hagwood confirms Bernal had an injury consistent with what Reno Police reported, but he says no hospitalization is expected. He says Bernal is being medically evaluated in Plumas County.
Since the shooting involves Reno Police, the investigation is being handled by the Washoe County Sheriff's Office and Sparks Police, per officer-involved shooting protocol.
If you have information that may help the investigation, you're asked to call WCSO or Secret Witness at 322-4900, or post a tip at
.
-----
STATEMENT FROM RENO MAYOR HILLARY SCHIEVE:
"We are extremely relieved to hear that this brave Reno Police officer is stable and is expected to fully recover from this tragic incident. I want him to know that The Biggest Little City has him in our thoughts and prayers, and that we are wishing for a speedy recovery.
I am truly saddened by what happened, and it's important for everyone to remember that violence is not the answer. Reno will not accept violence in our City. The brave men and women of the Reno Police Department put their lives on the line for us each and every day. We will honor their hard work and sacrifices by holding those responsible for what happened accountable to the full extent of the law."
STATEMENT FROM RENO POLICE CHIEF JASON SOTO:
"We strongly condemn the violence that took place yesterday evening in our City. Our officers willingly put themselves in harm's way on a daily basis to protect the people of Reno. The men and women of the Reno Police Department want to thank our community for their outpouring of support.
The Reno Police Department works diligently in our region to gain the community's trust. We have a community-oriented policing strategy in place that supports long-term problem solving, community empowerment and engagement and forging partnerships with other local law enforcement.
Today, our law enforcement stands united with our community. Your Police, Our Community."