First Native American Honor Flight returns home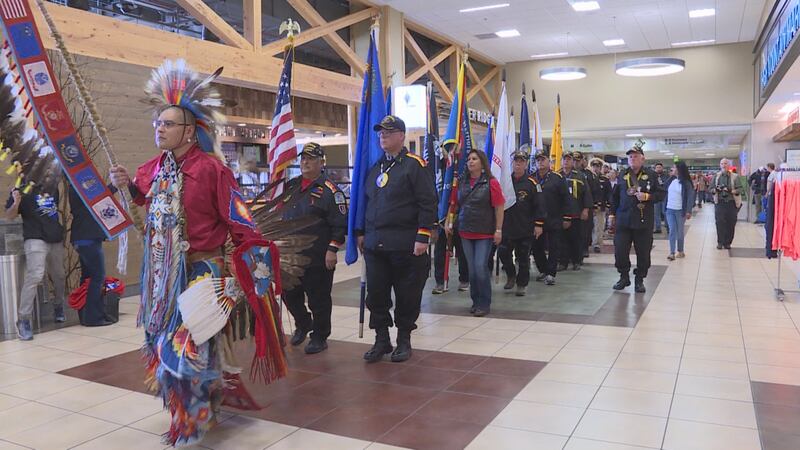 Published: Nov. 13, 2016 at 9:43 PM PST
War veterans returned home Sunday from our nation's first ever Honor Flight for Native Americans.
Honor Flight is a national nonprofit that helps send Veterans on free trips to Washington D.C. to see their war memorials. It gives veterans the opportunity to honor those who served alongside them, but never made it home.
"To be able to see them, to be able to honor them at the wall, was just amazing," Native American Army Veteran Rupert said. Rupert comes from a long line of service.
"My grandfather was in World War II, in the Army, and then my father was in the Air Force in Vietnam," Rupert said.
Two of Rupert's sons both served as well. One of them is serving now in Afghanistan. The other served in the Navy for eight years. He traveled with Honor Flight Nevada to Washington D.C. alongside his father.
Hundreds showed up Sunday to Reno-Tahoe International Airport to see the return of this groundbreaking flight.
"To be able to be the first in the country to host an event like this, really is something special," Governor Brian Sandoval said. "Everybody really embraced one another, and welcomed these men and women home from an amazing trip to Washington D.C., it's what makes Nevada special."
Once all the veterans made it off the plane, they played Native American songs and heard messages from Governor Sandoval and Reno Mayor Hillary Schieve.
After those songs and remarks, all 43 veterans stood in a circle in the airport. Everyone had the chance to go around and thank each veteran individually.
"I get a little choked up just thinking about this," Rupert said of sharing the Honor Flight experience with his son. "It just means so much to have your son standing right next to you, and to see him honored."
This was just the first in what is sure to be a long line of future Honor Flights for our Native American veterans.