Reno picked for national drone pilot program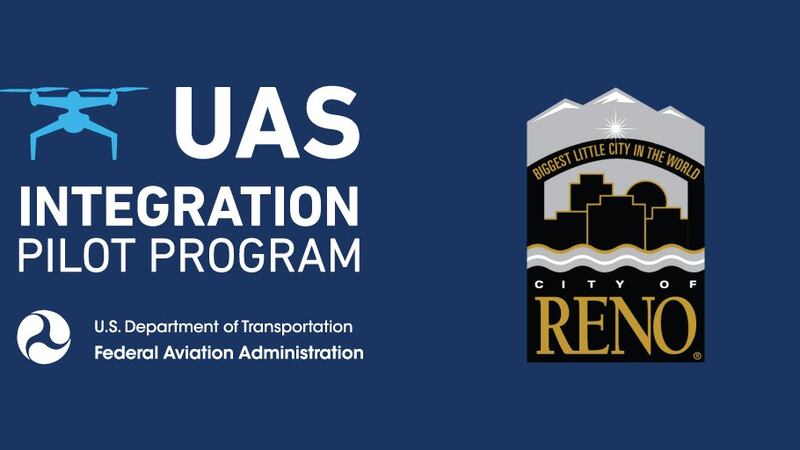 Published: May. 9, 2018 at 12:48 PM PDT
U.S. Secretary of Transportation Elaine L. Chao has announced the U.S. Department of Transportation has selected Reno to participate in the Unmanned Aircraft Systems (UAS) Integration Pilot Program.
First announced last October, this White House initiative partners the Federal Aviation Administration with local, state and tribal governments, which then partner with private industry to "safely explore the further integration of drone operations," according to a release from the city of Reno.
"We are looking forward to helping today's winners unlock the enormous potential of drone operations, which will create new services and jobs in their local communities," Secretary Chao said.
In February, the City of Reno announced a coalition and application to the President's Unmanned Aircraft Integration Pilot Program to fast-track life saving Flirtey drone delivery of automated external defibrillators (AEDs).
"This is an opportunity to create high-paying jobs and help develop the kind of drone technology that will have a direct and positive impact on citizens of Reno," Reno Mayor Schieve said. "We set out to build the strongest and most diverse coalition possible in order to support a drone initiative Flirtey has already been spearheading in our community – life saving drone deliveries."
"Based on Flirtey's analysis, we expect that just one of our drones operating in Reno will save one life every two weeks," Flirtey CEO Matthew Sweeny said. "This model is a game-changer for the health of our communities and will prove the viability of this life saving program, which has the potential to save over one million American lives over the decades to come. While saving lives, we will create jobs and help make America's drone industry great."
Through the coalition, the City of Reno, with support from Reno Police Department and Reno Fire Department, has partnered with Flirtey and the following entities:
• AirMap
• Alpine Insurance
• American Red Cross
• Carson City Fire Department
• City of Sparks and Sparks Fire Department
• FedEx
• Iris Automation
• Northern Nevada Medical Center
• Regional Emergency Medical Services Authority (REMSA)
• Reno-Sparks Indian Colony
• Truckee Meadows Community College (TMCC)
• T-Mobile
• Washoe County
The Integration Pilot Program (IPP) was introduced by the President and U.S. Secretary of Transportation Elaine Chao to help the USDOT and FAA develop a regulatory framework for the U.S. drone industry. Following selection for the program, the City of Reno's coalition will "demonstrate the life-saving potential of AED drone delivery, create a model for future life saving applications of this technology, and help achieve the safe integration of drones into the national airspace.
The IPP will help tackle the most significant challenges to integrating drones into the national airspace and will reduce risks to public safety and security. In less than a decade, the potential economic benefit of integrated unmanned aerial vehicles in the nation's airspace is estimated at $82 billion and could create 100,000 jobs."
DOT and the FAA evaluated each of the 149 proposals it received according to the requirements outlined in a Screening Information Request. Reno and the other final selectees will now work with the FAA to refine their operational concepts through Memoranda of Agreement (MOAs). The MOAs will establish the selectees' responsibilities, establish a data-sharing requirement, and specify that no federal funds will be spent on the program.
Over the next several years, the selectees will collect drone operational data involving night operations, flights over people and beyond the pilot's line of sight, package delivery, detect-and-avoid technologies and the reliability and security of data links between pilot and aircraft. The data collected from these operations will help the USDOT and FAA craft new enabling rules that allow more complex low-altitude operations, identify ways to balance local and national interests related to UAS integration, improve communications with local, state and tribal jurisdictions, address security and privacy risks, and accelerate the approval of operations that currently require special authorizations.
Fields that could see immediate opportunities from the program include commerce, photography, emergency management, public safety, precision agriculture and infrastructure inspections.
"The enthusiastic response to our request for applications demonstrated the many innovative technological and operational solutions already on the horizon," said Acting FAA Administrator Dan Elwell, who spoke alongside Mayor Schieve at the Reno announcement. "We know our diverse new partners will help us address a broad range of complex integration challenges."
for more information about the program.