Reno business helps Hollywood promote movie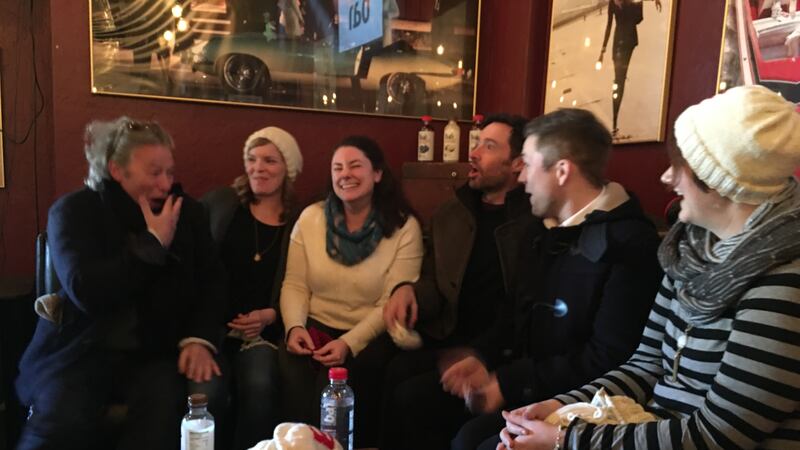 Published: Feb. 22, 2016 at 3:22 PM PST
February 26, the movie
will be released. It stars Hugh Jackman, Christopher Walken and
Kingsman: The Secret Service
's Taron Egerton. It's expected to be a blockbuster, dubbed the "feel good movie of the year." And producers of the film reached out to a small business in Reno to make sure one particular audience makes it to the movie theater.
Move trailer: "You're not going to give up, are you?"
The story about
is one of an underdog, taking on the biggest competition ever. The Olympics.
"Just this random email and she sends a note and says 'Hi, I've got a new movie coming out called
starring Hugh Jackman and Taron Egerton...'"
And in an instant, "'…I think it'd be fun if we could partner to promote this movie and to promote knitting at the same time.'"
A locally-owned yarn shop is taking on Hollywood. Don't kid yourself; Jimmy Beans Wool is a small-business on steroids.
"Facebook ended up doing a case study on our business," explains owner Laura Zander, "and how we were using Facebook for advertising and had done $1 million in revenue over a 12-month period."
That case study caught the eye of the film producer, who also happens to be a knitter. "So as Valerie, the producer, and I were trying to figure out how do we connect this movie about ski jumping, you know a true story about a British ski jumper, to knitting?"
An underlying character in the plot: a hand-knitted sweater. "In the true story the grandmother made the mother a sweater that said 'I'm Eddie's Mum' to really show how proud she was to be his mom, or his mum."
At the film's debut during the Sundance Film Festival, Zander and her team painted the town with knitting.
"We yarn-bombed the whole area, the whole downtown area in Park City," says one of the team members Rachel Roden. "What yarn-bombing is, is you make these big pieces of knitting and we put 'Es' on them to represent
."
"We wanted to be a little big secretive about it because it is graffiti," Rosen said. "So we wanted people to wake up in the morning and have
plastered everywhere."
The Park City campaign, a huge success at Sundance. Now, Hugh Jackman and Taron Egerton are getting in on the knitting fun. They star in a video on the Jimmy Beans website, coaching newbie knitters to the finish line. Who wins? Well, you'll just have to click on their site to see. No matter what, though, this partnership is an experiment that can be deemed successful.
"We believe that small business and big business can work together. We can micro-target audiences, passion led audiences," Zander says. "Small business can make a difference."
Jimmy Beans Wool's <i>Eddie the Eagle</i> web page.
"I Knit for Eddie" website
To follow Jimmy Beans Wool's campaign on Twitter search #iknitforeddie