O.J. Simpson turned down plea bargain deal in Las Vegas robbery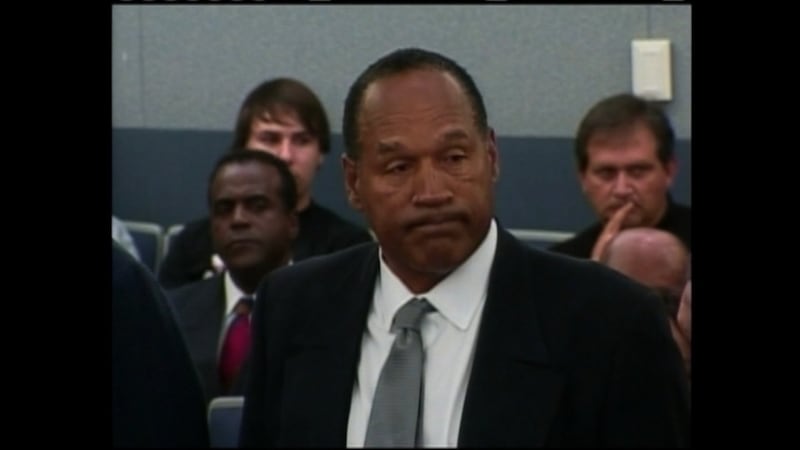 Published: May. 22, 2016 at 11:09 AM PDT
O.J. Simpson is behind bars at the Lovelock Correctional Center in Northern Nevada for an armed robbery at the Palace Station Hotel and Casino in 2007.
Judge Jackie Glass presided over the case. She told FOX5 Simpson would likely be a free man today if one thing had happened.
FOX5 spoke with a man named Charles Ehrlich, who identifies himself as Simpson's best friend. Ehrlich said that back in 2007, Simpson asked him to go to Palace Station and verify that his stolen merchandise was being sold.
Ehrlich said that Simpson was terrified during trial because he was never offered a plea deal. However, Glass said that is not true.
Simpson was found guilty on 10 charges, including kidnapping and robbery. He was sentenced to 33 years in prison.
"The rise and then fall of someone with that kind of celebrity just really captures people's attention. This was that kind of story, and especially because of what happened in Los Angeles with the first trial and acquittal. The interest never ended," Glass said.
Prior to this report, Ehrlich never spoke publicly about Simpson. He said he spoke with his friend while the Las Vegas trial was underway and that he wanted a plea deal.
"He said, 'There's no deal. They won't give me a deal.' That's what he said to me – 'There's no deal on the table,'" Ehrlich said.
Glass said there was a deal.
"I think it would have been two to three years. His ego wouldn't let him do it," she said.
Simpson will be up for parole next year. Ehrlich said that before he went to prison, he was constantly harassed for being acquitted in the slayings of Nicole Simpson and Ron Goldman.
"These ladies get up. They had two glasses of red wine. They fling it at him. He's wearing white. He's all red – doesn't do anything, say anything. They're yelling at him. He just dabs his face and looks down," Ehrlich said.
Ehrlich said that after a long night of partying, he asked Simpson if he was responsible for the murders.
"He said, 'I would never have done such a thing. I would never do that.' And I looked him in the eyes and I believed him," Ehrlich said.
Ehrlich said Simpson didn't have a lot of money because he was handing it over to the Goldmans. What little he had, Ehrlich said, he spent on a private investigator.
"He did make attempts to hire someone to find out who did the killings," Ehrlich said.
Ehrlich said that he spent a great deal of time with Simpson and that if he had been a savage killer, he would have picked up on it.
Glass and Marcia Clark, head prosecutor in the Simpson murder case, say Simpson is exactly where he should be.
"This crime involved violence. It involved guns. This is a crime that could have gone a very different way," Clark said of the 2007 robbery.
"He's where he needs to be because he was convicted by a jury of his peers," Glass said.
Ehrlich is unwavering in his support.
"I want you to know that I love you and I'm always here for you. I know that you're a good guy. I don't care what anyone says, and you shouldn't be where you are," he said.
Ehrlich and Simpson's former manager said they are certain he didn't order anyone to bring guns to Palace Station.