Nevada man dealing with bills from across the country that are not his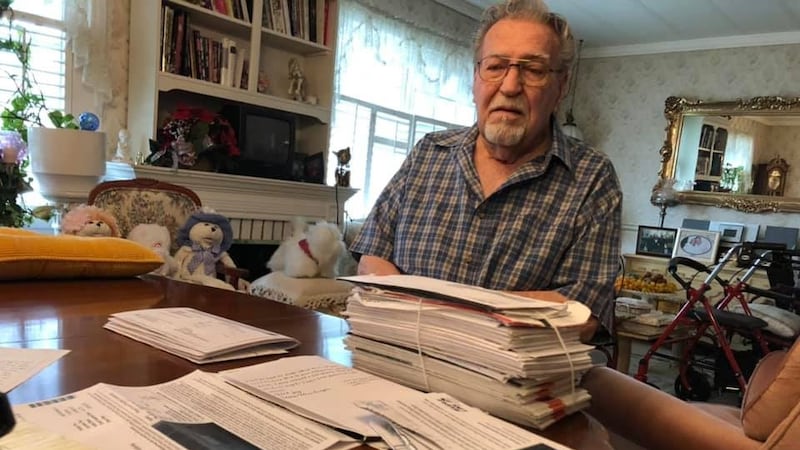 Published: Dec. 5, 2019 at 3:11 PM PST
A Sparks, Nevada man is facing hundreds of dollars in tickets and fines for toll roads and bridge fees from across the country. They are fees that James Mensinger argues are not his responsibility. They are fees from places Mensinger has never driven. He has not even left Nevada in the last 20 years. They are fees and fines that Mensinger says are threatening his financial stability and credit rating.
Mensinger reached out to KOLO 8 News Now's Terri Russell for help.
Mensinger has a stack of collection notices from New Jersey, Virginia, Indiana, Illinois, Texas, Minnesota and California. There might be other states involved, but Mensinger says he cannot keep track of it all.
At 82-years-old, Mensinger says, "I don't need this." And he is right. The notices have come about one every other month for the last six years, all claiming that Mensinger owes money for traveling on toll roads and bridges.
When you look at the notices, it is easy to see the problem. The photos attached to the notices show cars that do not match Mensinger's white Towncar. The notices also show rear license plates that do not match the one on Mensinger's car.
The issue is likely Mensinger's vehicle license plate, which is a tribute to Elvis Presley. Mensinger has had the plates since 1978, the year of Elvis' death. His now ailing wife, Lani, was a fan of "The King". They even have a picture of Lani in the 1950's taken with Elvis at the Memphis airport.
These days though, you can get novelty plates that read "Elvis". If a state does not require front license plates like Nevada does, you can put those novelty plates on the front of your car. Mesinger believes the toll collection agencies are using the novelty plates to identify the vehicle, and send the bills to him.
Mensinger says he's called and written to the various agencies over the years explaining these cars and toll charges are not his. Only once in all the years has anyone responded. That was the state of Pennsylvania two years ago which absolved him of that state's charges.
He contacted KOLO 8, because the toll company
has now threatened to send him to collections.
KOLO 8 tried calling Riverlink's customer service to help Mensinger clear up the misunderstanding. We were told by the representative that "Collections" does not alter a person's credit rating, and that they needed to talk to Mensinger or the DMV about the disputed bill. Mensinger tried calling again, but could not reach a customer service representative, and was instead trapped in a phone tree.
KOLO 8 also contacted the Nevada DMV, which told us there is nothing they can do to help Mensinger with the problem. Even if Mensinger changed his license plates, the toll collection services would still keep pursuing him for the improper charges.