Nevada Governor signs criminal justice reform bills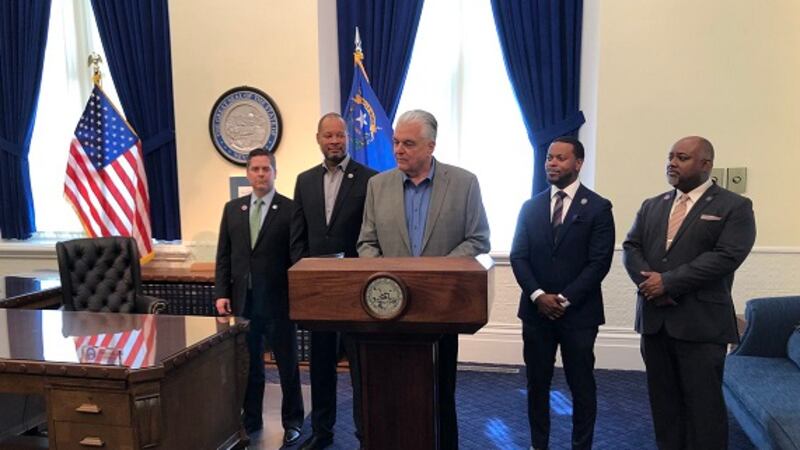 Published: May. 29, 2019 at 10:33 PM PDT
Nevada's governor has signed criminal justice reform bills that restore voting rights to convicted felons and streamlines the process for sealing low-level marijuana convictions.
Democratic Gov. Steve Sisolak signed both the measures Wednesday as the legislative session continues on in its final days.
The voting rights legislation gives felony offenders the right to vote after being released from prison, instead of granting certain felons the right to vote two years after being released.
Sisolak says some 77,000 state residents will have their voting rights restored due to the legislation.
Sisolak also signed into law a bill that makes it easier to seal a past low-level marijuana conviction by permitting a person to request a court to seal criminal records tied to any offense that is decriminalized.
(Copyright 2019 The Associated Press. All rights reserved. This material may not be published, broadcast, rewritten or redistributed.)
Governor Sisolak's comments as prepared for delivery:
Good afternoon and thank you all for being here. Today I'm going to sign two criminal justice reform bills that will restore fairness and justice to thousands of Nevadans.
The first bill I'm going to sign is
. I'd like to thank Speaker Jason Frierson for shepherding this bill through the legislature. I'd also like to thank our community advocates and activists for all their hard work. I know it's been a long fight and I'm so proud to be a part of today's victory.
This bill is very simple. It immediately restores the right to vote for convicted persons who have been released from prison or discharged from parole or probation.
When this bill goes into effect on July 1st of this year, some 77,000 Nevadans will immediately see their right to vote restored because this bill is retroactive to apply to individuals who have served their time, are walking free, but still don't have their full civil rights restored.
Currently, Nevada has one of the worst, most restrictive laws when it comes to restoring voting rights for convicted persons.
With my signature on this bill, Nevada will become the 39th state to automatically restore the guaranteed constitutional right of suffrage all citizens enjoy to people after they're released from prison.
The right to vote is one of the most fundamental rights guaranteed to all citizens and the bedrock of a strong and healthy democracy. As governor, I firmly believe that we should be doing everything we can to expand access to the ballot box, not restrict it.
This also includes people who have paid their debts to society after committing a crime. Not only is restoring their right to vote the right thing to do, it's also the smart thing to do.
Research shows that re-enfranchisement is key to rehabilitating and reintegrating a formerly incarcerated person back into society and reducing the chance they'll end up back in prison.
That's because when you vote, you have a stake in your community, your state, your country, and our democracy.
I'm proud to sign Assembly Bill 431 into law today to restore one of our most cherished and fundamental rights to tens of thousands of Nevadans. But before I do, I'd like to turn it over to Speaker Frierson and Mr. Joseph Abraham, who will both say a few words.
###
Good afternoon and welcome to all who have just joined us. I just signed Assembly Bill 431 to restore the right to vote for previously incarcerated individuals. Now, I'm going to sign
, which establishes a process for sealing the records of people convicted of an offense that has since been decriminalized.
I'd like to thank the bill's sponsor, Assemblyman William McCurdy, as well as Attorney General Aaron Ford, Speaker Jason Frierson, Majority Leader Nicole Cannizzaro, members of our local criminal justice and law enforcement communities, and the community activists who have been pushing for this reform. I'm so excited to play a part in the product of all your hard work to restore justice to so many Nevadans.
As a result of decades of heavy-handed policies during the so-called War on Drugs, our nation's prison population ballooned dramatically, to the tune of a 61 percent increase.
And as an unfair result, people of color have been disproportionately incarcerated for drug-related offenses, even though drug use rates do not differ significantly by race or ethnicity. In fact, almost one in three people arrested in our country for a drug law violation are African-American.
Nevada currently has over 13,000 inmates in prison, and its incarceration rate is 15 percent higher than the national average. But this bill takes an important step in examining how to reduce racial disparities in our criminal justice system.
After years of harsh sentencing and burdensome incarceration costs, states around the country began to revisit how their criminal justice systems treat controlled substances, and more specifically marijuana. As we all know, in 2016, Nevada voters approved Ballot Question 2 to legalize marijuana for recreational use.
As we look toward the future of our legal cannabis industry in Nevada, it's time also to provide a better future for those who were convicted of an offense that was later decriminalized, such as marijuana possession.
This bill, appropriately titled the Nevada Second Chance Act, would allow individuals to seal criminal records if the offenses are no longer illegal under state law, removing barriers that many Nevadans with a previous marijuana conviction face to obtaining credit, getting an apartment, or securing reliable employment.
The voters of our state spoke loudly and clearly in favor of decriminalizing marijuana use. That's why it's important to remove the stigma, and the criminal record that can get in the way of living a productive life, from those whose only offense is attributable to something that's no longer a crime, and that many Nevadans enjoy legally today.
It's also important to me as governor, as my administration seeks to reform and strengthen the way our legal cannabis industry is regulated, that those communities who have historically been marginalized by the War on Drugs are not left out of the new economic opportunities provided by Nevada's legalized cannabis industry.
That's why I'm proud to sign Assembly Bill 192 into law today, but before I do, I'd like to turn it over to the sponsor, Assemblyman McCurdy, for a few words.