MADE IN NEVADA: Aloha Medicinals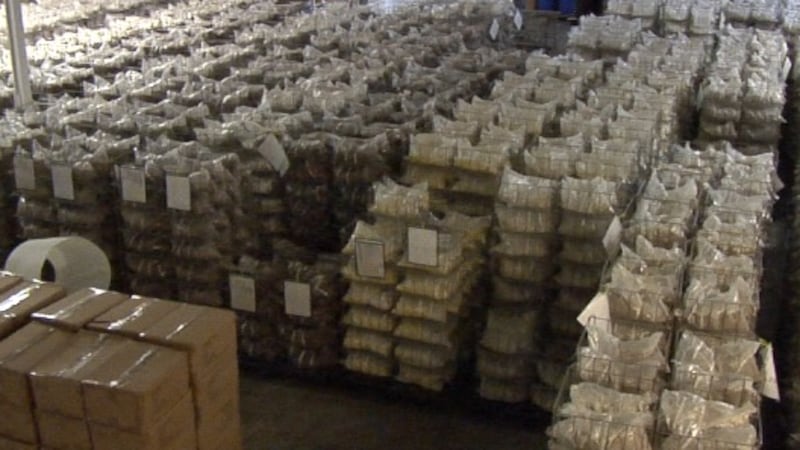 Published: Mar. 27, 2018 at 3:44 PM PDT
The largest growing operation of medicinal mushrooms in the United States is in Carson City.
grows 500 kinds of mushrooms.
The plant manager and Carson City native says he has his job today because of a personal experience with one of the company's products.
Daniel Ailes traveled to Asia, where he served in the U.S. military. A mosquito bit him and transmitted a virus into his bloodstream, giving him dengue fever.
He lost 25 pounds, was tired all the time, and had a hard time keeping food down. He says nothing seemed to work until his father asked him to try some of the mushrooms grown at Aloha Medicinals.
"When I first got the bottle, I thought my dad was nuts. Mushrooms, really?" said Ailes, who admitted he was desperate, so he gave it a try.
"I started taking the Immune Assist Critical Care Formula™, and after one bottle I was doing way better and two bottles I was back to normal. I was pretty much sick for almost four or five months," Ailes says.
He says the virus knocked his immune system down, allowing bacterial infections to spread. He claims the Immune Assist made at Aloha Medicinals was critical in helping his body heal.
The mushroom-based ingredients are grown in Carson City where he grew up.
"This is a great place for us to grow mushrooms, being at a high altitude and low humidity, high desert," said President of Aloha Medicinals Mike Brown.
The company started in Oahu, Hawaii, moved to Santa Cruz, California, and then to Carson City in 2008.
"It was tough to do business there so they moved to Nevada where it's more business-friendly," Ailes says.
The process of growing all the mushrooms starts with one of 50 employees filling a large container with up to 500 pounds of sorghum and 20 pounds of gypsum. The gypsum acts as a fertilizer to help the mushrooms grow. Then it's poured and mixed in a large drum.
Next, an automatic machine is used to fill bags with 10 pounds of the sorghum mix. The bags are then loaded into an autoclave, or giant pressure cooker, where they are heated to 250 degrees Fahrenheit for three hours to prevent anything, but the mushrooms from growing on the sorghum mix.
The bags are removed in a highly-controlled room. Hepa Filters remove particles down to .3 microns, helping to ensure a pure growing process.
Next, spores are added to the sorghum mix. The workers call the spores the inoculum. The bags are sealed and tumbled to ensure the spores are evenly mixed throughout the bag. Then the bags are wheeled out to a room where they will sit for several weeks.
All that's needed now is six to eight weeks for the mushrooms to grow inside the sealed plastic bags.
Daniel held up a bag that was sealed nearly six weeks earlier. "This is probably about 90 percent bio-converted. Our goal is 95. We typically have more," he said.
Finally, a team prepares to remove the mushrooms from their plastic bags. A worker sprays 70 percent isopropyl alcohol on any part of his body that may come in direct contact with the mushrooms to keep help the product pure.
Next, the bags are dipped in a solution to sterilize them before they're opened. The mushrooms are spread on trays and put in a giant dehydration machine able to hold just more than 2,500 pounds of the product at one time.
When finished, the mushrooms are between 5 and 7 percent moisture and only 2 to 5 percent of the sorghum remains. The rest has been bio-converted into the mushroom.
Then they're sold all over the world to Asia, Europe, Australia, South America and across North America. You can also buy the products from the company's local store at 4610 Arrowhead Drive in Carson City.