Local artist to be featured in Smithsonian Museum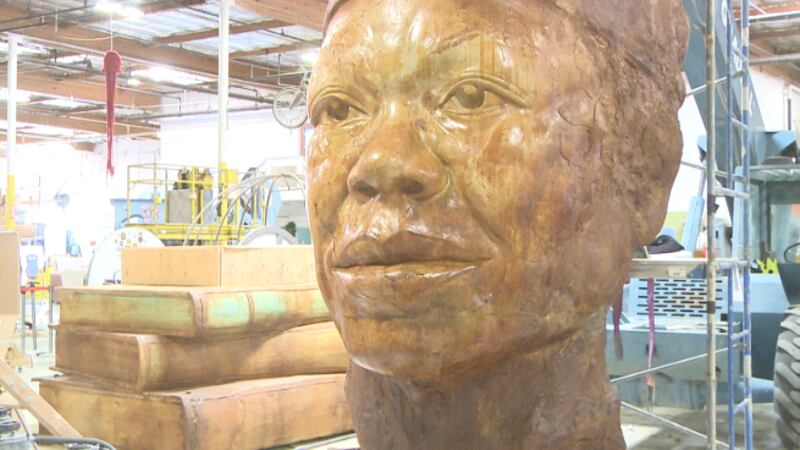 Published: Mar. 9, 2018 at 1:39 AM PST
In May of 2017, artist Mischell Riley began work on a larger-than-life sculpture of poet and activist Maya Angelou.
"With all the things going on in the world, I just wanted to amplify her voice," she said.
The piece named 'Maya's Mind' was first created for Burning Man, and pays honor to Angelou's body of work; most notably, "I Know Why the Caged Bird Sings" and "And Still I Rise"
Viewers of the piece can step into the sculpture's head, and listen to Angelou speak the words to "And Still I Rise". This is the first in a three-piece series said to highlight strong women in history. Riley says she chose Angelou for the first piece because she wants to protect her memory.
"I had to have a 20-foot sculpture represent her because she is stoic, and in my mind, what history is, she should be included," she said. "She rose from such a horrible situation into greatness. She still rises."
The piece was incredibly important for Riley to create. After 9 government grants for creating sculptures of men, she wanted to highlight strong women. The next two women in her series will be Jane Goodall and Amelia Earhart
"I think that women should go to parks and have inspiration, and men too, from powerful women," Riley said. "I think that these monuments are a missing element in history."
Riley applied for more government grants, but was never accepted. That's when she decided to take a note from Angelou and take matters into her own hands.
She decided to self-fund the project; raising money by selling miniature versions of the larger piece. Eventually, through Riley's hard work and talent, 'Maya's Mind' was born.
"To me, the eyes are the most important part of a sculpture," she said. "Because if you look into the eyes, that's where the soul is. I wanted her to have a gaze across the Playa of confidence, and passion, and just endless stare of future. "
She succeeded in that mission. So well in fact, this time the government came calling. Riley received an email from the Smithsonian asking to showcase her work in its new exhibit.
"Kind of a dream come true," she said. "From day one I want it to go to Washington, D.C."
Riley says her first thought was to have the work displayed in the National Museum of African American History and Culture, but feels just as honored to have the piece at the Smithsonian. 'Maya's Mind' will be on display through December as part of the 'No Spectators: The Art of Burning Man' exhibit.
"I still haven't woken up to what's really happening," Riley said. "You can only dream of going to the Smithsonian, and you just work your hardest to get there. I just went for my dreams. You know, if there's a will there's a way."
The sculpture is leaving for Washington, D.C. Friday, March 9. She is the only Reno artist to have a piece in the exhibit. However, Riley says she still needs $5,000 to transport the piece to the Smithsonian. To donate to the cause,