It's the Year of STEM in Nevada schools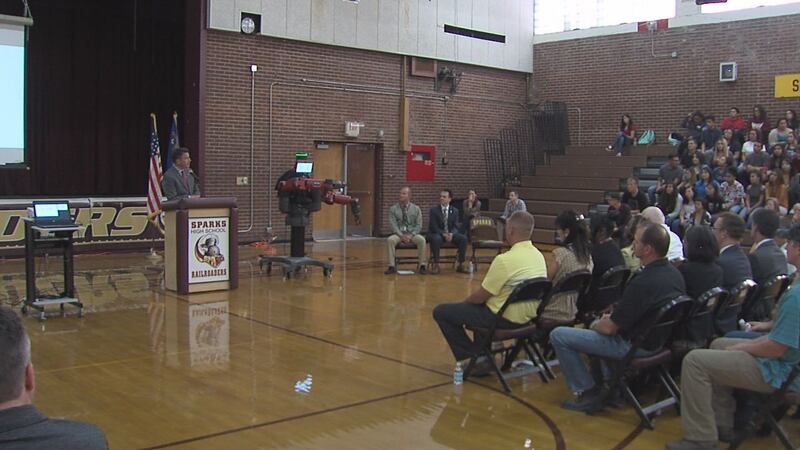 Published: Sep. 19, 2016 at 6:03 PM PDT
With a hand-off from a robot from TMCC named Baxter and a stroke of the pen, Governor Brian Sandoval signed a proclamation declaring the school year the 'Year of Stem' in Nevada's schools.
The proclamation ceremony at Sparks High School September 19, 2016 was more than a photo op focusing on an increasingly important trend in education. It was, in fact, aimed at recruiting the interests of the students who were watching and others like them around the state.
The arrival of Tesla and other high-tech firms marks a turning point in the state's economy, and the governor told the students in the fast-changing tech industries the jobs they may be seeking in a few short years may not even exist today.
"You have to have those building blocks to allow the students to have those skills to get the jobs of tomorrow," the governor said.
The event in the Sparks High gymnasium was something of a career fair as well. A number of businesses and schools were there to engage students.
It was just a hint of what the kind of interaction the governor and his Office of Science, Innovation and Technology hope they see in the coming year and beyond--the private sector, schools and students working together to create a new economy and a work force ready to join it.
"We don't want to start training kids on things they're not going to be able to use. So, you have to have that collaboration to make this work."
Tying all of it together, a website...
... helping to create that synergy, not only showcasing careers students may not have even thought of, but helping bring those industries into the classroom.
"It's difficult to call up a school and ask if them if you can come," says Director Brian Mitchell of the Office of Science, Innovation and Technology of busineses. And likewise it's hard for a teacher to go find the right company to visit your classroom. So, we're going to do a better job of matching up companies and people with stem skill with teachers who need them in their classrooms."
If it all works together in the year ahead and beyond, the Year of STEM could help the governor's economic development efforts.
"When we go out and recruit these companies we can tell them that we have initiatives like this--a STEM initiative--that are developing the workforce of tomorrow. Frankly some of the families that are moving in are looking for this kind of curriculum."