Indian Colony hands half a million to Washoe County schools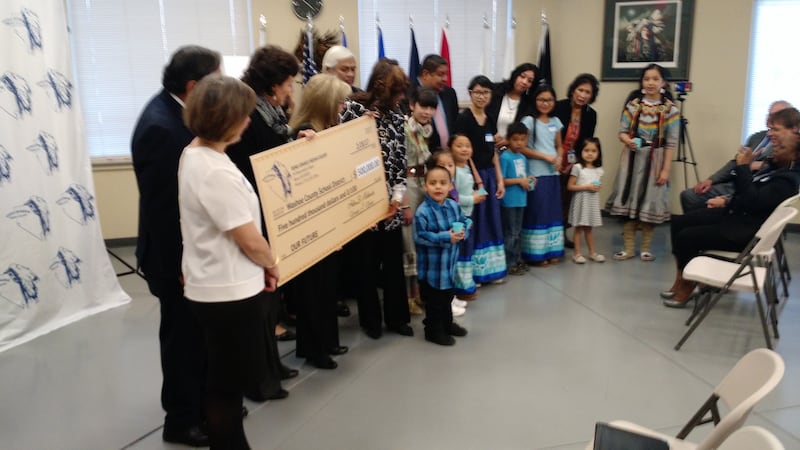 Published: Feb. 28, 2017 at 1:21 PM PST
The Reno-Sparks Indian Colony (RSIC) commemorated its first revenue-sharing payment Tuesday with the Washoe County School District.
"We are proud to publicly reinforce our commitment to educating all Washoe County school children," said Arlan D. Melendez, Chairman of the RSIC. "Our leadership is committed to the academic advancement of not just our Native American students, but to all area youth."
This nearly-half-a-million-dollar contribution is the final step in a 15-year-project between Washoe County, the State of Nevada and the RSIC.
"This collaboration was designed to benefit all parties, most importantly our children," Chairman Melendez said. "Thanks to the success of our retail operations with our increased tax revenue, the entire region is enjoying new community amenities, increased urban development, private partnerships and of course, revenue sharing for education."
According to an RSIC release:
In accordance with Assembly Bill 299, which unanimously passed the Nevada Legislature in 2005, the RSIC proposed to share sales tax revenue from its retail project near Highway 395 and East Second Street to benefit the Washoe County School District. Using tribal tax revenues and a 1995 tribal municipal bond, the colony purchased multiple properties and amassed 22 acres just east of its downtown land base. However, because the properties had been the site of several industrial businesses, the RSIC partnered with the Environmental Protection Agency and the Nevada Division of Environment Protection, to remove soil contaminated with pesticides, petroleum hydrocarbons, metals, polychlorinated biphenyls (PCBs), lead, and nitrogen.
After the environmental cleanup, the RSIC worked with the Washoe County Flood Control Project, the Washoe County Public Works Department, the Nevada Department of State Lands, the Army Corps of Engineers, and Walmart to construct a quarter-mile flood wall and levee along the south bank of the Truckee River between I-580 and the Glendale bridge.
The colony also worked with the Nevada Division of Public Works to design and construct a state-of-the art facility for the Department of Corrections. Upon completion, the colony and State Lands swapped the former Northern Nevada Restitution Center at 2595 E. 2nd Street and the site of the new facility at 225 Sunshine Lane.
This multifaceted public-private collaboration sprang from a need to expand health services to the RSIC's 1,143 tribal members as well as the Northern Nevada Urban Indian population. Besides diversifying the colony's tax base from sole reliance on tobacco sales, the RSIC retail operations accounted for the construction of a $20 million health center.
In July 2016, the RSIC celebrated its seventh year of operation of the Reno-Sparks Tribal Health Center, a direct result of this multi-agency collaboration. The 65,000-square-foot health center not only provides medical care for the RSIC tribal members, but for an additional 6,000 Northern Nevada Urban Indians.