I-580 reopened after hazmat spill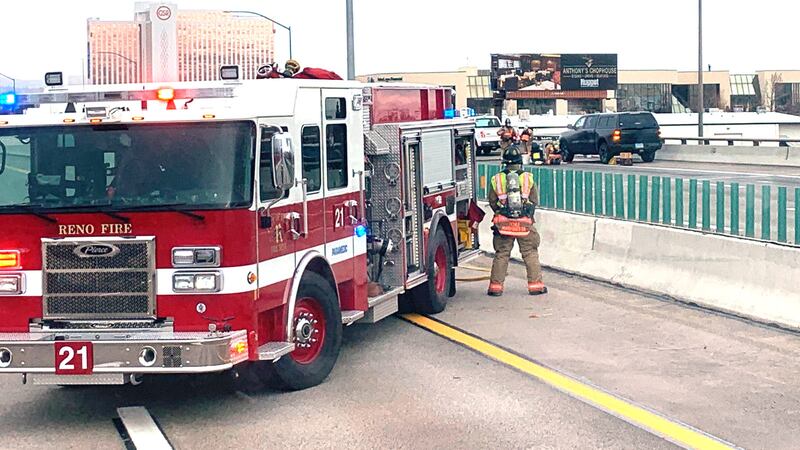 Published: Dec. 13, 2019 at 2:44 PM PST
The initial reports are that a bucket fell off a commercial vehicle Friday and onto Interstate 580 and that triggered a hazardous materials call, the Nevada Highway Patrol said. Crews then responded to the hazardous materials incident.
At 3:22 p.m. there was a report of another bucket along the road at Interstate 80 and McCarran Boulevard in Sparks. At this time, it does not appear to be related to the I-580 incident, the NHP said.
The city of Reno said the acid spilled was construction-grade muriatic acid, which is commonly used as cleaner and is sold over the counter. It is also known as hydrochloric acid. The Reno Fire Department said it has contained the spill.
A person driving a pickup truck hit a 10-gallon to 15-gallon drum of the acid and then pulled over. The fire department responded and realized the acid was highly corrosive.
Hazmat crews used air bags to lift the truck and remove the drum.
Two drivers who reported the incident have been treated and are being monitored, the city of Reno said.
"However, RFD cautions all drivers to be aware of dangers on the road and to call 911 before taking any sort of action," the city said in a statement.
Two lanes of northbound Interstate 580 are now open.
Southbound Interstate 580 traffic is moving again. Northbound Interstate 580 remains closed.
Traffic is being held in both directions on Interstate 580 after an acid spill south of Mill Street.
Northbound is diverted at Plumb Lane and southbound is diverted at Mill Street.
The eastbound on-ramp to Interstate 80 from McCarran Boulevard in Sparks is closed due to a hazmat spill.
The accident happened at about 2:19 p.m.
A KOLO photographer on scene said there are two trucks stopped on the freeway. Emergency crews are scooping a white substance onto the northbound Interstate 580 directly where the freeway crosses Villanova Avenue.
The Nevada Highway Patrol advises drivers to avoid the area.
The Reno-Tahoe International Airport is tell people not to take the freeway to get to the airport.
The Regional Transportation Commission is evacuating the building on Villanova Avenue.
People going through the area should expect delays.
The HP asked anyone who saw 5 gallon to 10 gallon bucket-sized canisters fall off any vehicle to call *NHP on their cell phones or 775-687-0400.