Governor approves protections for pre-existing conditions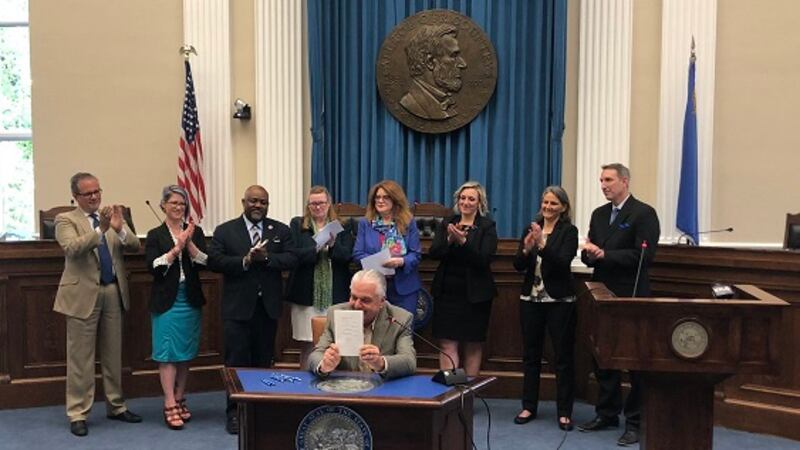 Published: May. 15, 2019 at 4:09 PM PDT
Nevada's governor has signed a bill (
) that prevents insurers from denying coverage to patients due to a pre-existing condition.
Democratic Gov. Steve Sisolak says the measure ensures that health care protection even if the Affordable Care Act is struck down at the federal level. He made the comments at a bill signing Wednesday.
Sisolak also signed a bill (
) to address "surprise" medical billing and says the practice can saddle a patient with a five-figure bill. He says the legislation aims prevent an out-of-network provider who gives emergency medical care from overcharging a person.
Assembly Speaker Jason Frierson praised the bill and says the measure makes sure that patients are cared for.
(Copyright 2019 The Associated Press. All rights reserved. This material may not be published, broadcast, rewritten or redistributed.)
Governor's Comments as Prepared for Delivery:
Good afternoon and thank you all for being here. I'd like to thank Speaker Jason Frierson, Assemblywomen Maggie Carlton and Ellen Spiegel, and all the members of the legislature for being here. I'd also like to give a special thanks to the countless Nevadans who have raised their voices over the past few years in support of protecting our access to quality, affordable health care.
Today, I'm going to sign two bills into law that will dramatically improve the state of health care in Nevada from both an affordability and an accessibility standpoint.
Assembly Bill 170 will codify into state law protections for health coverage for pre-existing conditions. This means that if the Affordable Care Act is struck down in Washington, Nevadans won't be denied coverage due to a pre-existing condition.
1.2 million Nevadans are living with pre-existing conditions and could have their coverage ripped away from them and face astronomically high health care costs if the Affordable Care Act is overturned. That's why today, we're taking an important step as a state to guarantee that no Nevadan will lose health coverage because of a pre-existing condition, no matter what happens in Washington.
AB170 also solves a problem that too many Nevadans face – difficulty accessing health care providers in their insurance network. Too often, patients have to wait weeks or months to see a provider, and the wait for care can be even longer with a specialist.
This bill will empower the Office of Consumer Health Assistance within DHHS to assist Nevadans with securing appointments for care with in-network providers.
When I was campaigning for governor last year, I heard over and over, from Nevadans in all corners of the state, that they wanted a governor who would stand up and protect their coverage for pre-existing conditions.
In addition to joining the fight in the courts to protect the ACA from partisan attempts to dismantle it, I am proud to sign Assembly Bill 170 today that takes an extra step to strengthen protections for Nevadans with pre-existing conditions.
From today forward, the 1.2 million Nevadans with a pre-existing condition can rest easy knowing that their health coverage won't be ripped away from them based on the shifting political winds in Washington.
…
Thank you. Before I sign the next bill, I'd like to turn it over to Assemblywoman Ellen Spiegel, the primary sponsor, to say a few words.
…
Thank you, Assemblywoman Spiegel. Next, I'm going to sign Assembly Bill 469, which addresses a serious issue commonly known as "surprise billing." This is an issue that's attracted a lot of recent attention, both here in Nevada and nationwide.
If you're experiencing a medical emergency, the last thing you're worried about is making sure the provider treating you at the nearest hospital is in your insurance network.
If it's not, you can be hit with an outrageously high bill for your emergency care without knowing it, even though you have health insurance. These bills can sometimes run $10,000 or more and can leave a working family in financial ruin.
AB469 seeks to remedy this problem by prohibiting an out-of-network provider who provides emergency medical care to an insured patient from charging the patient more than what they'd pay for in-network care.
No Nevadan should have to worry about getting hit with an unexpected five-figure medical bill for receiving emergency care that their life could depend on. With AB469, we're taking an important step to make health care more affordable, and to address an issue that has plagued Nevada families for far too long.
…
Thank you. I will now turn it over to Speaker Frierson and then Assemblywoman Carlton for a few words.
…
Thank you both. Thank you everyone for being here today for this monumental day in our state. With these new laws, we've just made health care even more accessible and affordable for Nevadans.
In addition, I'd be remiss not to mention that later this afternoon, I'll have the honor and privilege of presenting the bill that will create the Patient Protection Commission before the Senate Health and Human Services Committee. The PPC will take a comprehensive look at the state of health care in Nevada to find out what's working and what we can do better. I hope to see many of you there.
Thank you very much.