Cat rescue goes wrong, but--against all odds--ends happily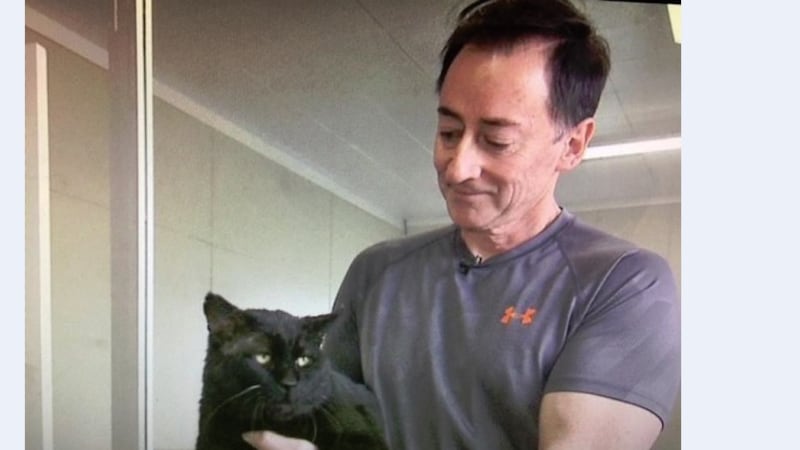 Published: Jan. 30, 2018 at 5:53 PM PST
One glance around the company yard at Hunt & Sons tells you Frank Jaramillo is a cat lover. Frank supports a colony of neutered feral cats in cooperation with a local organization. But the alpha male isn't hanging out with the others.
He's confined to Frank's office these days for good reason. And what a story he could tell. He showed up 12 years ago, an apparent abandoned stray, and stayed. Thinking his eyes resembled a favorite car, Frank named him Camaro. About 10 days ago he disappeared.
"He always shows up at six o'clock, feeding time, and he wasn't here. So I was a little worried."
Unknown to Frank, Camaro was up a tree on the nearby banks of the Truckee. The staff at the Reno-Sparks Tribal Health Center knew where he was. They watched and took pictures as he clung, covered with frost, 30 feet up.
They called for help. But efforts to get him down led to him falling or jumping into the river below. His rescuers saw him swim to a small island downstream. Concerned that efforts to rescue him would lead to other rescues, the Fire Department searched the island. Nothing. The Humane Society put a trap there. No luck.
The rescue caught the attention of the Reno Gazette-Journal. One morning Frank opened the paper. There was his cat, pictures of him jumping into the river, swimming downstream. Accompanying copy related the search efforts and the reasons for fearing the worst.
So everyone had tried and failed. Jaramillo wasn't quite ready to give up yet.
"I had to check just to make sure he wasn't there. So I put a ladder across the bank."
And walking across he got safely to the island and looked around.
"I couldn't find him for about 30 minutes. Then something led me to the brush, really thick brush."
There, deep in a hole, he spotted some black fur.
"I thought he was dead because he wasn't moving. I finally touched him. He hissed and growled. It was him."
Now how to get a terrified cat, scratching and biting across that ladder without both of them ending up in the river? There was a lot of debris on the island and among it, an old suitcase. With darkness approaching, snow possible, he had an idea.
"My plan was to grab him, put him in the suitcase, zip him up and carry him across the ladder and it worked."
Both survived in surprising shape; Camaro had lost some weight. He's a little scarred up, but otherwise seems fine. He may be in no hurry to wander near the river again, but Frank isn't taking any chances. Camaro is confined to the office.
Some seeing this may wonder at the lengths he's gone for this stray he took in a dozen years ago. Actually it needs no explanation.
"Yeah. I love him."