BLM: Target shooting caused ten fires so far in our area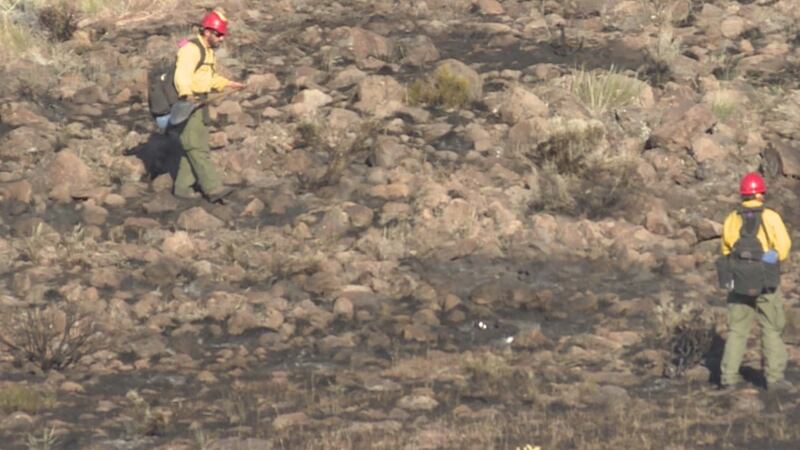 Published: Jun. 27, 2017 at 9:50 PM PDT
Bureau of Land Management Fire Investigator Ryan Elliott is walking through the area near Golden Eagle Regional Park that was burned May 21. The cause: target shooting.
"That's probably a fragment of the bullet that started the fire," says Elliott, picking up a piece on the ground.
Elliott says so far this year, there have been five fires that have been started by target shooting on BLM land. There have been a total of ten fires this year started by target shooting if you add all the fires in local jurisdictions.
"Almost every individual that has called and reported a fire they started by target shooting has said 'I didn't believe that we could start a fire by shooting until it happened to me.' And it can happen to you," says Elliott.
And it doesn't take much. According to Elliott, there is at least two times the amount of cheat grass on BLM land this year than during a normal year.
Erica Hupp, a spokesperson for the U.S. Forest Service, points to how dry the cheat cheat grass is at Golden Eagle Regional Park. She says it doesn't take a lot for a fire to spread quickly through this kind of fuel once it is ignited. And target shooting can cause that spark if a bullet hits a rock or ricochets off something.
"That one little spark can just get into a little glass pile and blow up big," she says. "Especially if it's on a hot windy day or just a hot day."
With all that dry fuel, fire officials are warning people now that if they are going to target-shoot on open land, don't have a false sense of security. They want to warn people that having a fire extinguisher, shovel, and water on hand does not mean that they can put a fire out quickly once it ignites. In fact, many times, shooters try, but fail.
"As fire investigators, we'll go in and we'll see the evidence of them trying to suppress the fire, but it won't be effective," says Elliott. "And it's because the fire gets too big on them too quick just from the time it takes them to get from the shooting location to where the bullet impact is."
Fire officials also want to clear up the misconception that lead core ammunition cannot cause fires. Elliott says they have seen several fires in recent years that have been started from lead core bullets.
Target shooters could be held liable for paying for the costs of fighting the fires they cause, according to Elliott. He says that was the case a few years ago not far from the burn scar near Golden Eagle Regional Park. He said the shooter got stuck with the $60,000 bill.
"Every time you see one of those large retardant aircraft go over and it makes a drop, that's $20,000," says Elliott.
With target shooting on open land legal in many part of Nevada, the fire officials who gathered at Golden Eagle Regional Park Tuesday are not telling people not to do it. But they do want people to be cautious and know the risks before they pull the trigger. They also want them to think about the men and women who risk their lives to fight the fires in our area, no matter what the cause.
"Any fire you go out on can be dangerous," says Elliott. "So let's try to make it so that our firemen don't have to go out to so many."