Arrested but innocent: 6-year old mistake leads to jailing of woman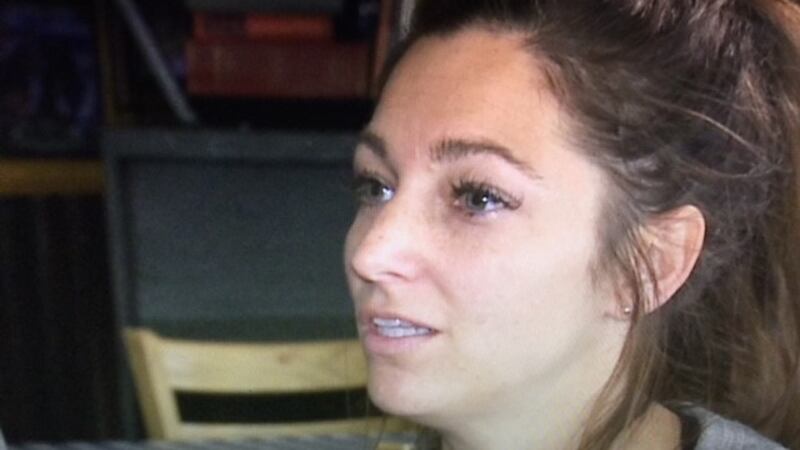 Published: Mar. 13, 2018 at 6:04 PM PDT
It was a case of mistaken identity, a years-old error, but it became a nightmare for a local woman, one that still haunts her and could for years to come.
It began with a routine traffic stop. Brittany White had made an illegal left turn, but it quickly turned into something much more serious. Instead of writing a ticket, the Highway Patrolman asked her to step behind her car.
"I'm like, 'Can you get arrested for an illegal left turn?'"
He checked her for weapons; then a woman trooper who'd been called as backup frisked and handcuffed her. The trooper had run a warrant check on her and discovered a warrant on a six-year-old drug charge from Pahrump in Nye County.
"Well, I've never been to Pahrump. What's this all about? They said 'You have a warrant out for a felony drug charge in Pahrump.' I'm like, 'Sorry guys, you've got the wrong girl."
But no one believed her.
"Based on what we have. Your name, your DOB, your social security number, those kinds of things lead us to believe it's the same person," the trooper told an increasingly distraught Brittany White.
So, she was transported to the Washoe County jail, still protesting her innocence to the woman officer inputting her.
"And they looked me up in the system and said everything matches. You did it. And I said "No, no, no it wasn't me. She said 'Just go sit down."
"I mean, she was just bawling her eyes out," says Brittany's longtime boyfriend Emory Peterson, who had finally been able to talk with her by phone and was working to get her out. "She was terrified."
Hours later, bail posted, she emerged free, but shaken and worried.
"I'm going to school to become a social worker. I work with foster kids and I've been in fear of losing my job because I can't have a felony drug charge."
The next day Peterson began making calls, finally reaching someone who would listen, a woman in the Nye County District Attorney's office.
"She called me four hours later," says Brittany, "and said 'I need you to breathe and I need you to relax. I want you to know we made a mistake. We got the wrong Brittany White.'"
That mistake was a long time in the making.
In 2012 Nye County authorities charged two people, a Pahrump man and a woman named Brittany White with one count of conspiracy to violate the controlled substance act, a class C felony. Six years ago Tuesday, the charge against the man was dropped. It remained in force against the woman and the record shows the likely reason. She failed to show up for court.
There's a good reason for that. Any summons were being sent to the wrong Brittany White, and she couldn't have alerted them to that error as they were sending it to a Reno address where she hadn't lived for six years.
When the charges were first filed, someone had mistakenly identified this Brittany White as the woman in the drug case, an error which led directly to her arrest six years later. That error has now been corrected, charges withdrawn, but she can't relax just yet.
"So we have paperwork that they mailed to us that says the charges are dismissed and are being dropped," says Peterson. "That said, that doesn't mean they're off her record."
A local criminal defense attorney we contacted on this issue agrees.
"All of the computers that have her name as the subject of an arrest warrant still exist," says Martin Wiener. "The remedy would be if the Nye County court issued a formal order discussing how she was wrongfully arrested and directing anybody who receives a copy of this order to expunge any record of this arrest."
That makes perfect sense to Brittany White and Emory Peterson.
"If you charge someone with a crime they had nothing to do with and you know it. It certainly should be on you to clean up your mistake," says Peterson.
There are still questions that need answers. In fairness, we should point out that the original mistakes took place six years ago under a different district attorney, a different sheriff. In fact, the deputy DA who signed the original charges is now a Clark County District Court judge.
But we were finally able to talk with the present District Attorney, Angela Bello. She told us she couldn't explain the apparent error, as that would have been made by the sheriff's office, not the DA's. She said the warrant was likely renewed automatically last October, again not by her office.
And she said she's reached out to Brittany White to pledge to do what's necessary to seal the record of the warrant and arrest.
Finally, about that name. We've learned there are no fewer than three Brittany Whites in Nye County court records. At least one lives in Pahrump today and was in custody on other charges as recently as last September.
Are either of these other two the one whose name really belonged on that warrant all this time, or is there yet another? We don't know and--for all we know--neither does Nye County. We'll continue to follow this story.