Ancient grain: Newest thing in Nevada agriculture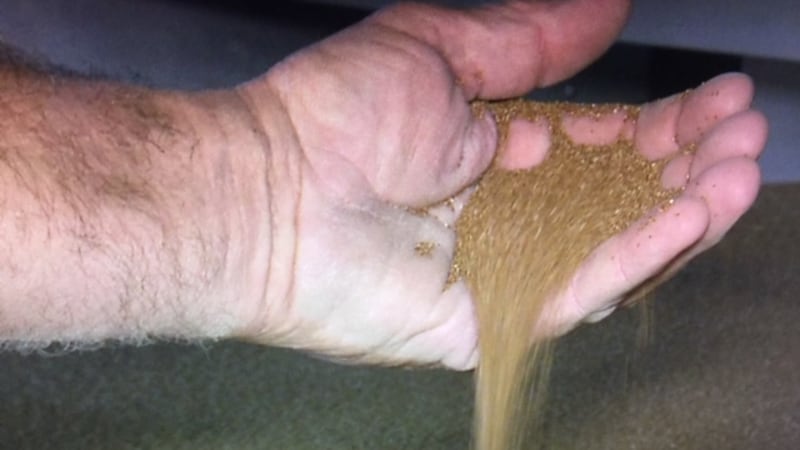 Published: Oct. 18, 2018 at 7:14 PM PDT
It's a strange sight in a valley known for cantaloupes, but whose major crop has always been alfalfa.
A tall grass, lying here after cutting. Even up close it's hard to see it as a food crop, but it is and has been for thousands of years. Those tiny seeds are a grain called teff.
If you or someone you know has to worry about gluten in their diet, you may have heard of it already. If not, chances are this is your introduction.
This all started nine years ago. They were searching for an efficient, effective rotational crop.
Alfalfa is still the major crop out here, but every half dozen or so years, it has to be replanted, its fields renewed. In the interim to keep fields in production, rotational crops are usually planted.That usually meant corn, for silage, or wheat, and there wasn't a lot of money in either.
A group of local farmers heard the suggestion that teff might be an ideal alternative. When it came time to plant, only Jon Getto and Dave Eckert took the plunge.
Teff, they found, was an ideal rotational crop for the high desert. It grows quickly. Plowed under, it enriches the soil. Alfalfa seems to thrive when it follows teff. And, it needs little water.
"When we had that drought a few years ago, we did grow teff at that time because it was the only thing we could grow," says Getto.
There were no models to follow. They learned as they went. How to plant. How to grow and harvest.
When the crops came in they shipped their grain out of state at first for cleaning and processing. Now they're equipped to do it themselves. An impressive new processing plant cleans the tiny grain, separating chaff, sand and other impurities. It gives them control over their product.
"That was our whole thing, control over what we're doing," says Getto. "Cleaning it here so the farmers could see what we're doing. And we have quite a few good growers here, probably five or six growers in town."
And there's demand for the final product.
"There's a big demand. We get a lot of calls about celiac disease. And it's not only the gluten. It's got protein, lots of fiber."
Some of it here is ready to ship to a buyer in New Jersey and there's an order from China in the pipeline.
They're now taking the next step, marketing teff flour under their own brand. Expect to see it in health food sections shortly.
And they're looking at other grains, growing sorghum. Experiments with buckwheat are next.
"I think it's going to take off. It's going to be a good thing."
They're hosting an open house at their processing plant at 4977 Golen Circle in Fallon Tuesday, October 23, from 3 to 7 PM. Refreshments including some teff-based pastries will be served.
For more information visit their