Ag Dept. and Horse Campaign sign deal for horse birth control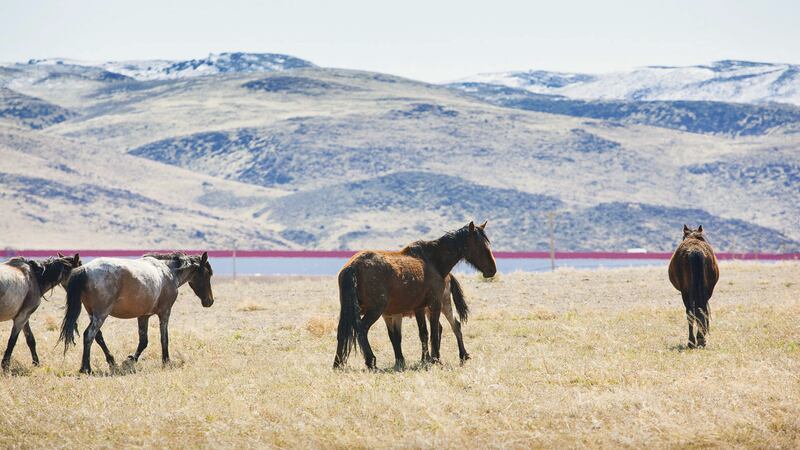 Published: Apr. 9, 2019 at 2:55 PM PDT
The
and
have signed a non-exclusive agreement for fertility control.
The program aims to reduce population growth rates in the herd, which lives in a 300,000-acre range that spans from Carson City to Reno to Fernley and Silver Springs.
It's what the NDA calls a "first step in comprehensive management of the Virginia Range feral/estray horse population."
"We understand the importance of fertility control in the long-term health and management of the Virginia Range horses," NDA Director Jennifer Ott says. "I look forward to working with the staff and volunteers of AWHC and our shared goal of a sustainable, long-term solution for managing the Virginia Range horses."
NDA says the agreement addresses fertility control and leaves room for additional cooperative agreements. NDA says it will continue to address public safety concerns as needed, and horses on highways or roadways should be reported to local law enforcement or by calling NDA's Animal Industry division 775-353-3709.
The program's certified darters will begin working in cooperation with
, the largest landowner in the Virginia Range, to deliver the PZP immunocontraceptive vaccine to wild horses in Innovation Park in Storey County this week.
"AWHC extends our gratitude to Governor Steve Sisolak, Minority Leader Jim Wheeler, Blockchains and NDA Director Jennifer Ott for honoring the public's interest in protecting these horses and getting this win-win program implemented," says Suzanne Roy, Executive Director of the AWHC. "We are pleased to be back in the field, implementing humane solutions for population management of the cherished Virginia Range mustangs."
"We love looking out our office windows and seeing the majestic wild horses grazing on our property," says Blockchains CEO Jeffrey Berns. "We have always said the horses on our land, will remain on our land. But the safety of our employees and all those who visit Storey County is of concern. That's why responsible birth control measures are essential."
Blockchains' land in Innovation Park comprises more than half the area currently inhabited by the Virginia Range wild horse population.
AWHC says PZP is a scientifically-established immunocontraceptive vaccine for female horses (mares), saying, "It creates an immune response that prevents fertilization. It is reversible, safe (including for pregnant mares) and has minimal impacts on the horses' natural behaviors."
AWHC says, "Controlling the population humanely and reducing it over time is essential to keeping the Virginia Range horses wild in a habitat that is increasingly impacted by development. The program provides a humane alternative to removals from the range."
AWHC's darting team consists of seven volunteers who also represent AWHC local coalition partners Virginia Range Wildlife Protection Association, Wild Horse Connection, and Wild Horse Preservation League. April 23-25, 2019, AWHC is sponsoring a PZP certification training class, offered by the Science and Conservation Center, and hosted by Blockchains.
The Virginia Range area includes highway 395 to 95A and I-80 to Highway 50. Nevada is a "fence-out" state, which means if landowners do not want livestock on their property, they must construct a legal fence in accordance with
.
Horses on the Virginia Range cross roads in search of feed and water sources. Drivers are asked to be alert and aware, and be sure to obey all traffic laws, including posted speed limits.