Quakes hit between Reno and Susanville near Herlong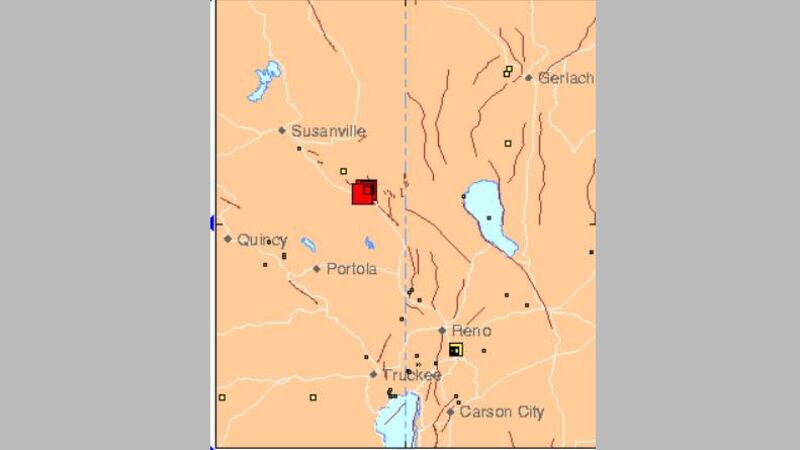 Published: Aug. 3, 2016 at 10:21 PM PDT
A magnitude 4.5 earthquake struck between Reno and Susanville at 9:55 p.m. August 3, 2016, followed by several aftershocks over the next 12 hours about 45 miles north of Reno.
The 4.5 number comes from the
. The
puts the original quake at 4.9.
As of 3 p.m. on Thursday, the United States Geological Survey reports 107 earthquakes near the south end of Honey Lake since Friday, July 29. Five are a magnitude 3 or greater. Twelve are a magnitude 2 or greater. About 60 are a magnitude 1 or less. They average about 7 miles deep.
The first quake struck between Herlong and Honey Lake, and Janesville resident Wendy Raynard, who lives on the other side of Honey Lake from the quake, called the KOLO newsroom. Raynard said it felt like it was going to knock her mobile home off its foundation.
"It hit really hard," Raynard said, then uttered "Oh my Gosh!" as she felt a magnitude 4.4 aftershock.
The quake and aftershocks were about 20 miles away. The main quake was about 1.3 miles underground.
She also felt the magnitude 4.0 that hit in the same area on Tuesday.
"This one was a lot stronger," Raynard said. "I've lived here 16 years and I've never felt an earthquake here."
The Lassen County Sheriff's Office has no reports of damage.