200 local jobs expected with medical device company facility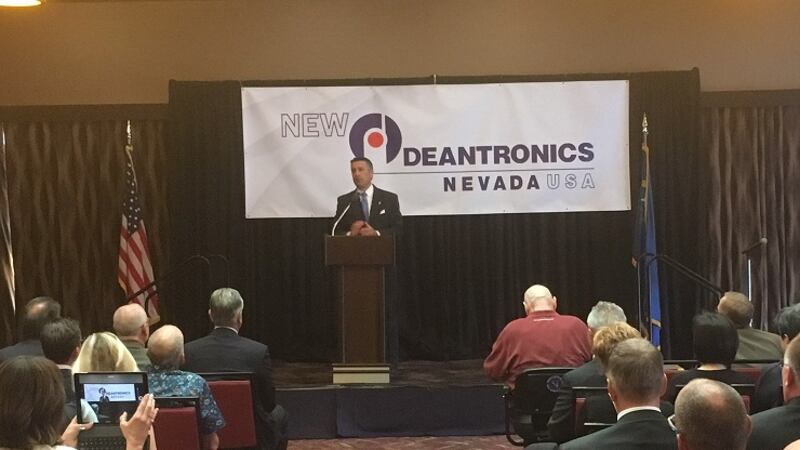 Published: Sep. 25, 2018 at 12:06 PM PDT
The
(EDAWN) has announced that
(ND), an international medical device technology manufacturer, is establishing its U.S. facility in the Spanish Springs Business Center, off the Pyramid Highway near Calle de la Plata. The company is breaking ground on a 200,000-square-foot facility for research/development and manufacturing. The facility will also include a medical device incubation center for local medical device start-ups. New Deantronics says it estimates it will invest more than $40 million for construction and equipment and will generate more than 200 new jobs.
New Deantronics was founded in 1985 in San Francisco, and is focused on "medical/surgical technology to advance healthcare and quality of life for patients," according to a release."New Deantronics has established its position by investing in innovation, quality, and its employees. Its medical device products are widely used in general surgery, neurosurgery, cardiology, orthopedics, and aesthetics. Having received numerous awards in Taiwan, where it is headquartered, New Deantronics is most proud of being a 'National Quality Award' recipient. The philosophy and operating principle embodied in everything New Deantronics stands for is reflected in their motto, 'A Caring Company.'"
The company currently operates an engineering and manufacturing facility in New Taipei City, Taiwan and will open a second manufacturing facility in Chiayi County, Taiwan in 2019, in addition to the Nevada 14-acre technology campus in 2020. The Nevada campus will provide R&D, manufacturing, R4R (return for repair), capital equipment exchanges, and a medical device incubation center. The company says it will hire to fill positions in design, electrical, and mechanical engineering, as well as technicians, facilities, maintenance, quality assurance, warehouse, and manufacturing assembly.
"The decision to establish an R&D and manufacturing center in the Reno-Sparks area is the result of a multi-year location search and supports our "Go Global" vision," says Jane Liu, CEO. "The support and assistance received from so many people and organizations here convinced us to select Reno-Sparks to be our new home in the U.S. We hope to be an integral part of establishing a long-term medical device industry infrastructure, bringing together industry, academia, healthcare providers and others benefiting Reno-Sparks and the global medical device community."
"We absolutely believe the addition of New Deantronics to Washoe County is a strategic choice not only for their business, but for the quality of life it offers their entire team," says John Slaughter, Washoe County Manager. "Our region continues to attract some of most innovative companies from around the world due to our vibrant landscape and thriving communities. New Deantronics is another great example of our tech industry booming, and we welcome them to Washoe County."
"We are thrilled that New Deantronics will soon be breaking ground on their technology campus in the Spanish Springs Business Center," says Sparks Mayor Geno Martini. "Having this award-winning medical device technology manufacturer is a win for our region both in expertise and job creation."
"With a focus on engineering and innovation, New Deantronics is an example of a high-tech, knowledge-based operation that will contribute quality jobs and global connections to our region. We are very pleased to join in welcoming them to Nevada", says Mridul Gautam, Vice-President Research and Innovation at the University of Nevada, Reno.
"We are excited that New Deantronics has selected the Spanish Springs Business Center for their new U.S. operations site," says Mike Kazmierski, President and CEO of EDAWN. "The company's reputation as a world leader and innovator in surgical and medical device technology is a great fit for our region with the recent growth of advanced manufacturing and tech-related businesses."