Colorado State defeats Wolf Pack 30-20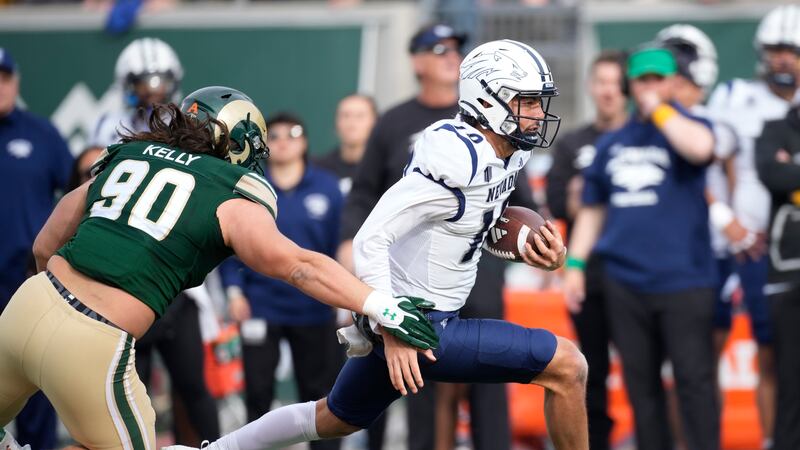 Published: Nov. 18, 2023 at 4:31 PM PST
FORT COLLINS, Colo. (AP) — Brayden Fowler-Nicolosi threw for two touchdowns and Colorado State defeated Nevada 30-20 on Saturday.
Fowler-Nicolosi's second TD toss, a 38-yarder to Louis Brown IV, with under 11 minutes remaining gave the Rams (5-6, 3-4 Mountain West Conference) a 10-point cushion and Nevada (2-9, 2-5) managed only 14 yards on its final two possessions.
Interceptions by Henry Blackburn and Nuer Gatkuoth led to a touchdown and a field goal in the first half when the Rams scored on their first four possessions to take a 20-3 lead. But they saw it cut to seven points by halftime on a Brandon Talton field goal and Richard Toney's 66-yard pick-6 on the final play before the break.
Jordan Noyes kicked his third field goal to extend the lead to 23-13 in the third quarter and the Wolf Pack again tightened the game with Brendon Lewis' 9-yard touchdown run with seven minutes left in the period.
Colorado coach Jay Norvell again defeated the program he left two seasons ago to take the Rams job.
Fowler-Nicolosi was 15 of 30 for 245 yards passing. Justin Marshall rushed 19 times for 98 yards. Tory Horton had 78 yards receiving with a score.
Lewis threw for 169 yards and rushed for 61 more for Nevada. AJ Bianco, out of the game early after a big hit, threw the two interceptions.
Colorado State plays at Hawaii on Saturday. Nevada concludes its season at home against Wyoming on Saturday.
Wolf Pack athletics
Colorado State 30, Nevada 20
Saturday, Nov. 18, 2023
Fort Collins, Colo. - Canvas Stadium
Postgame Notes
• Nevada fell, 30-20, at Colorado State, Saturday ... The Wolf Pack is now 2-9, 2-5 MW.
• Nevada wrapped its road slate with a 1-5 record, the lone win a 6-0 decision Oct. 21 at San Diego State.
• Safety Richard Toney Jr. recorded his second interception return for a touchdown of 2023, with his 66-yard pick-six on the final play of the second half.
• Toney Jr. is the first Wolf Pack defender with two touchdowns in a season since both Daiyan Henley (INT, fumble return) and Berdale Robins (INT, fumble return) scored twice in 2021.
• Quarterback Brendon Lewis came on in relief in the first quarter--Lewis finished the game 18-for-24 passing for 169 yards, and rushed for 61 yards and a touchdown.
• Kicker Brandon Talton kicked two field goals and two PATs in the contest...his eight points brought his career total to 384, just one behind Nevada all-time scoring leader Marty Zendejas (385).
• Wide receiver Dalevon Campbell finished the game with five catches for 72 yards...his 31-yard catch in the third quarter was his ninth this season of at least 30 yards.
• Wide receiver John Jackson III recorded a season high in receptions (five), going for 40 yards.
• Tight end Cameron Zeidler recorded a career-high five catches for 39 yards.
• Running back Sean Dollars had a career-high 20 carries Saturday, finishing with 69 rushing yards.
• RUSH Marcel Walker-Burgess made 1.5 tackles-for-loss to lead the defense.
Copyright 2023 Associated Press. All rights reserved.