Reno Elementary Schools celebrate Ruby Bridges Walk to School Day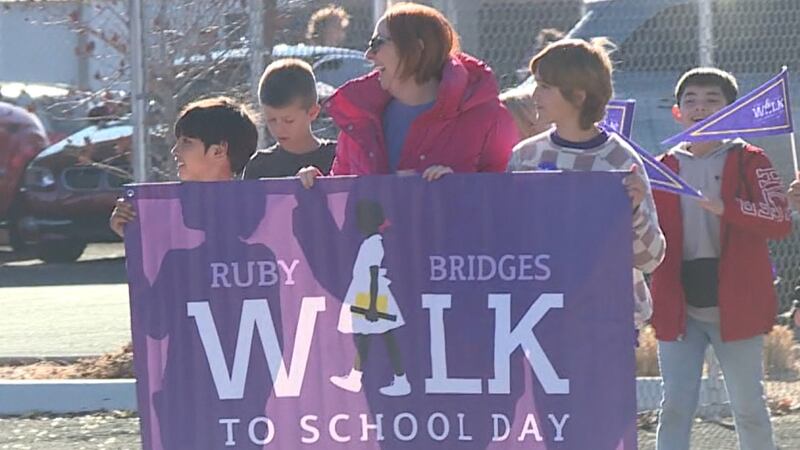 Published: Nov. 14, 2023 at 8:49 PM PST
RENO, Nev. (KOLO) - 63 years ago, six-year-old Ruby Bridges stepped into the history books when she became the first African American student to integrate into an elementary school in the South. Ruby is alive today and is 69 years old.
"Ruby Bridges is a hero. She was just an innocent six-year-old girl, but she is a pioneer for civil rights," said Corey Jones, a teacher at High Desert Montessori Elementary School.
On the anniversary of that event, November 14, 2023, High Desert Montessori Charter School teamed up with Rita Cannan Elementary School to celebrate "Ruby Bridges Walk to School Day". Over 600 students from the two schools walked around the blocks of both campuses to celebrate that historic day. "I felt tired but I was also excited because I was like, today is the Ruby Bridges walk, time to get purple," said Temple Fitzpatrick, a student at HDMES.
Students wore purple and waved flags and banners to bring awareness to Ruby Bridges' contribution to civil rights and the relative recency of desegregation of schools.
"It doesn't matter what skin he is. Its what's in your heart," said Mateo Herrera Landaverde, a student at Rita Cannan Elementary.
Ruby Bridges still lives in New Orleans. The Ruby Bridges Foundation helps troubled children across the country and advocates for education and integration.
Copyright 2023 KOLO. All rights reserved.