New video shows Las Vegas officer running over homicide suspect with patrol vehicle, killing him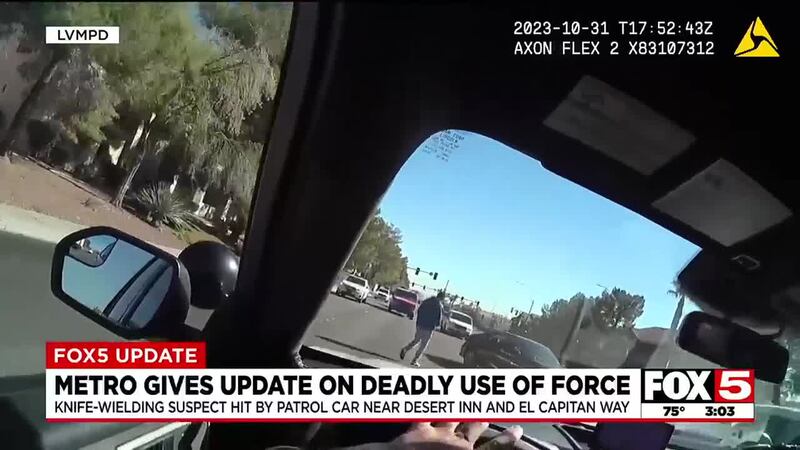 Published: Nov. 6, 2023 at 7:45 AM PST
LAS VEGAS (AP) — Newly released body camera footage showed the moment a Las Vegas police officer behind the wheel of a patrol vehicle ran over a man wanted in a fatal stabbing, killing him.
In a short video clip released Friday at a news conference, the man is seen stumbling in the street Tuesday morning while armed with an 8-inch blade. He is surrounded by occupied cars as the officer and his partner in the patrol vehicle approach him.
"Lock the door," says the officer who is driving. "I'm gonna hit him."
Assistant Sheriff Jamie Prosser identified the suspect as Dannon Bryant, 43.
Minutes before the officers encountered Bryant in the street, Prosser said, he had repeatedly stabbed a woman in what she described Friday as a domestic violence-related homicide.
Prosser said a neighbor called 911 to report that a man was stabbing a woman and himself on the balcony of a second-floor apartment unit that had been set on fire in western Las Vegas.
"There's a big fire," the neighbor says in a 911 call audio recording played Friday during the news conference. "The whole apartment is on fire."
Prosser said Bryant then jumped off the balcony, left the apartment complex and ran into the street.
That's when officer James Burt and his partner found him, Prosser said.
"Officer Burt used the patrol vehicle to bump Bryant, and subsequently," Prosser said, "Bryant fell to the ground was run over by the vehicle."
The officers exited the vehicle and told the suspect to drop the knife. Prosser said Burt then used a stun gun on the suspect, who had started to stab himself.
Bryant was pronounced dead at the scene.
Meanwhile, residents at the apartment complex tried to use a ladder to help the woman off the balcony and away from the fire. But Prosser said the woman, who she did not identify, fell to the pavement below. She died later that day at a hospital.
Prosser said Bryant would have been charged with murder, arson and resisting a public officer with a deadly weapon if he had survived the encounter with police.
Burt, an officer for the Las Vegas Metropolitan Police Department since 2006, is on paid leave while the department investigates his use of force.
Copyright 2023 The Associated Press. All rights reserved.