Report: Naked man that stole Las Vegas police car suffered 'mental breakdown'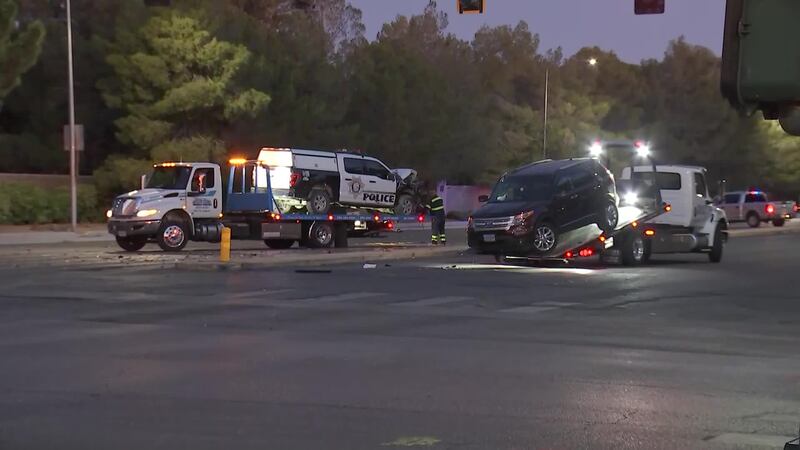 Published: Nov. 3, 2023 at 12:42 PM PDT
LAS VEGAS, Nev. (FOX5) - A pair of Las Vegas Metropolitan Police Department arrest reports have provided more insight into the physical and mental state of a suspect who was arrested after fighting an officer and stealing a department vehicle on Halloween night.
Clyde Cabulisan was stopped by Metro police twice on October 31. At approximately 11 p.m., LVMPD communications received a report of "a naked man walking in the street who appeared to be trying to get hit by vehicles" at the intersection of Blue Diamond Rd. and Buffalo Rd. A marked patrol car in the area located Cabulisan walking in the middle of the intersection and an officer used his emergency lights to prevent other vehicles from hitting the suspect.
According to a police report, Cabulisan then walked toward the driver's side door of the patrol truck. An officer got out and instructed the suspect to stand at the front of the police vehicle.
An altercation ensued and Cabulisan punched the officer in the face several times before getting into the driver's seat of the patrol vehicle and driving away. Other officers then pursued the stolen vehicle.
Police followed the vehicle eastbound on Blue Diamond to northbound Rainbow Blvd. Police said that the pursuit ended when the suspect crashed into a civilian vehicle near Rainbow and Hacienda Ave.
Two occupants of that car were taken to University Medical Center to be treated for injuries suffered in the collision. Cabulisan attempted to flee on foot but was taken into custody.
The police report said that the suspect continued to "act erratically" and that he tried to "actively fight with officers attempting to keep the suspect in a safe position while medical personnel were arriving." Police added that his behavior was consistent with "someone under the influence of illegal narcotics or abusing prescription medications."
Cabulisan was taken to UMC to be treated for his injuries. The suspect's brother called LVMPD and advised the department that Cabulisan "may have taken cocaine and marijuana at a party earlier." The caller also said that his brother suffered a "mental breakdown."
Cabulisan is facing multiple felony charges, including DUI, reckless driving and battery. He is scheduled to appear in Clark County Justice Court on November 7.
Copyright 2023 KVVU. All rights reserved.