Las Vegas police say toddler injured after shooting self with gun dropped by fleeing teen suspect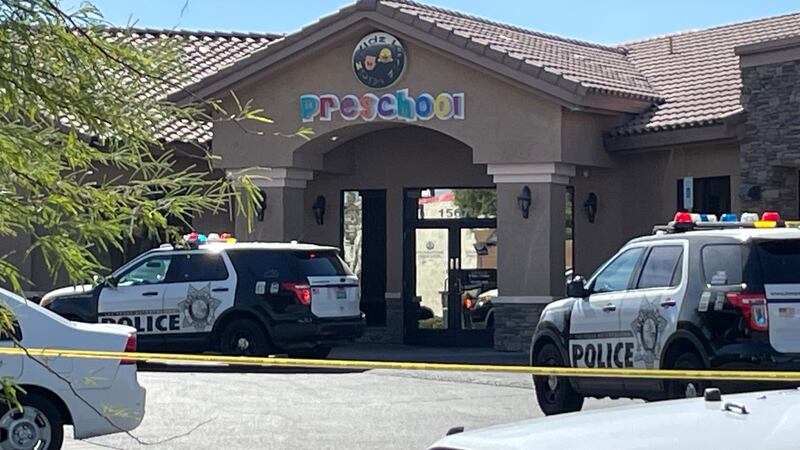 Published: Nov. 3, 2023 at 11:39 AM PDT
LAS VEGAS, Nev. (FOX5) - The Las Vegas Metropolitan Police Department says a toddler was transported to a local hospital after shooting themself with a gun that was allegedly dropped by a teen suspect fleeing another incident.
According to Las Vegas police, the first incident occurred near Kell Lane and North Nellis Boulevard. In this incident, one victim was located and transported to UMC Trauma.
The second incident, according to police, involved a juvenile in the 1500 block of North Nellis Boulevard. According to police, it is believed that the suspect in the first incident dropped his firearm while fleeing the scene and the juvenile picked it up and shot themself.
In a briefing Friday afternoon, police said a teenager had been in a physical altercation with an adult on a public transportation bus. The teen pulled out a firearm and shot the adult, LVMPD said.
When fleeing the scene on foot, police said the teen jumped a wall at a nearby daycare. In doing so, police said the teen then discarded the loaded firearm in the playground of the daycare before he continued to flee.
Moments later, police said a child at the daycare picked up the firearm and it discharged, striking the toddler.
In the briefing, police said the toddler, identified as being under the age of 5, was currently in "stable but critical condition."
The individual who was shot on the bus is in stable condition, according to police.
The teen suspect will be booked into Clark County Juvenile Detention Center, according to LVMPD Deputy Chief Reggie Rader.
"We are consulting with the DA on all applicable charges as well as considering charging that individual as an adult," Rader said.
The incident remains under investigation.
Copyright 2023 KVVU. All rights reserved.