Affordable housing groundbreaking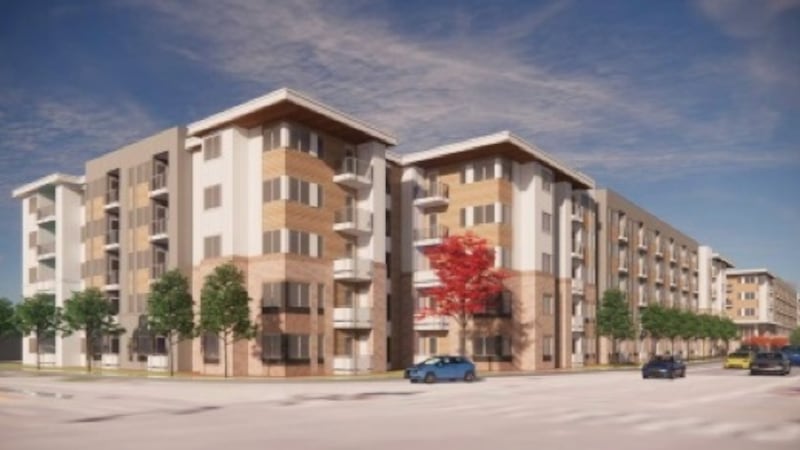 Published: Nov. 1, 2023 at 4:25 PM PDT
RENO, Nev. (KOLO) - Nevada State leaders and Santa Monica based developer Lincoln Avenue Communities broke ground Wednesday, November 1 to build 252 affordable housing apartments at 1120 East Moana Lane just west of the Reno-Tahoe International Airport.
The Pinyon Apartments will sit on a 3 acre site and consist of 2 five story residential buildings and a 5 story parking garage. Martin Harris Construction based in Reno is the designated general contractor.
Monthly rent will be about $800 less than similar apartments, which means a one bedroom unit will rent for a little more $1000 a month.
Two and 3 bedroom units with 2 bathrooms will also be available, but only renters who earn 60 percent of the area median income will qualify.
Phase one of the project is expected to be available to renters in the spring of 2025 and the last phase is scheduled to open to renters in the fall of 2025.
"We would not be here today without the State of Nevada's support," said Lincoln Avenue Communities Senior Development Associate, Brian Moloney.
This affordable housing project received two separate awards from Home Means Nevada funds. They come from Gov. Joe Lombardo and the previous administration totaling $13.6 million. The project also received a State tax credit award of $3 million and $55 million in tax exempt bonds, which allows the project to leverage a federal 4 percent low income housing tax credit.
"We wouldn't be here today without the support from the City of Reno. The City of Reno stepped up in a big way and approved an impact fee reduction of over $1.2 million, which was absolutely essential in getting this project built. It reduced our budget gap at a crucial time. This project would not be possible without Mayor Hillary Schieve and City Council," Moloney said.
The affordable housing project also received additional help from Gov. Lombardo.
"From the day Gov. Lombardo took office affordable housing has been a top priority and our Governor remains committed to ensuring that our State Government is doing everything possible to bridge the gap that exists with available units and homes and reduce the administrative burden on developers and businesses to move projects forward," Gov. Joe Lombardo's Director of Community Outreach & Constituent Affairs, Madeline Burak.
This started with Executive order 003, which ordered the freezing of any new regulations and a thorough review of any regulations in the works.
"Our office is currently working through this process. It is committed to ensuring industry is a partner in this effort and that they feel they have a partnership with the State," Burak continued.
The Governor's office is using the State's tax exempt bonding authority to finance eligible projects at below market interest rates.
Since January Gov. Lombardo's office has committed $375 million in tax exempt bonding authority for affordable multi-family housing projects.
Gov. Lombardo signed several pieces of legislation to address the affordable housing crisis including creating the supporting housing development fund, modernizing property tax exemption fund for affordable housing, and requiring large jurisdictions to prioritize affordable housing projects and have accountability for their current housing needs.
Lincoln Avenue Communities CEO Jeremy Bronfman says he is looking forward to developing more affordable housing communities in Reno.
His Company's first two communities closed in Reno seven years ago in 2016.
"It's especially personal for me to be back here and see it come full circle," said Bronfman.
"This has been one of the more complex transactions that Lincoln Avenue has done and it took an incredible amount of resources and coordination and creativity," said Bronfman.
He says his mission is to expand access to high quality affordable housing.
Between 2019 and 2022 market rate apartments have increased on average by more than 26 percent in Reno, said Bronfman.
Copyright 2023 KOLO. All rights reserved.