Rally on Las Vegas Strip calls for release of Israeli hostages in Gaza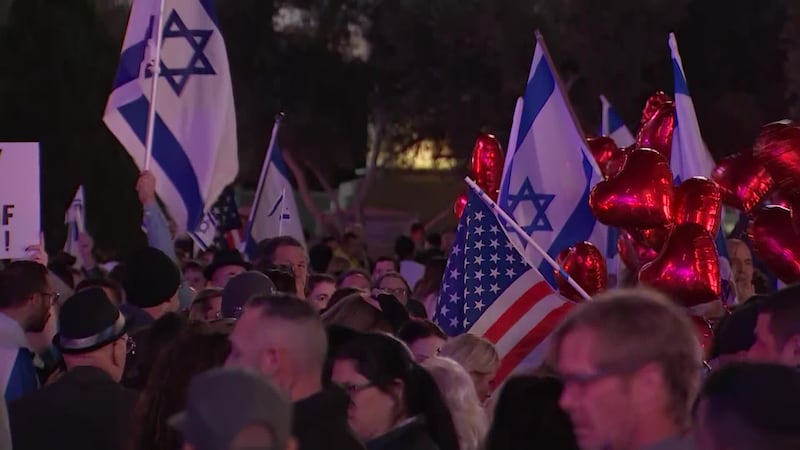 Published: Oct. 30, 2023 at 6:39 AM PDT
LAS VEGAS, Nev. (FOX5) - Now three weeks into the war between Israel and Gaza's militant Hamas rulers, a pro-Israel rally was held on the Las Vegas Strip Sunday night. The group called for the release of 239 hostages taken by Hamas, according to the Israeli government.
"We don't want to go back to our day-to-day life and forget about it, or go back to our convenient life. We really want to remember it and have our leaders remember it and demand the return of the hostages," Noa Perijensch, participating in the pro-Israel rally.
While some other demonstrations over the weekend in New York City and San Francisco called for a cease-fire in the war, that was not the message at the protest in Las Vegas Sunday.
"We take care of all people until they kill our civilians, and now we're going to do what we need to do to defend our people. We don't need to defend defending ourselves. We're going to take care of it," said Adam Peniazek, participating in the pro-Israel rally.
"We want peace, this is about peace, and ceasefires usually comes when both sides agree to some kind of normalcy, but we are not dealing with a normal side. We are dealing with a terror organization Hamas, equal to Isis, and therefore we cannot stop until Hamas is eliminated," said Perijensch.
The Gaza-based Ministry of Health — an agency in the Hamas-controlled government — said Sunday that the Palestinian death toll has passed 8,000, mostly women and children.
Meanwhile, the Israeli military intensified air strikes in the region.
"My heart goes out to the innocent civilians in Gaza and in Israel obviously," said Perijensch, "but I think what Israel is doing right now is not just for Israel, it's also for the Palestinians. They will be free from Hamas as well, and the world will be a safer place without terrorists in it."
Earlier this month, another local group gathered for a rally in support of Palestinians, condemning the attacks in Gaza and the killing of innocent Palestinians.
"I've always been told that I don't have a homeland, that Palestine doesn't exist. So if they want to come out and protest, that's fine, but I'm always going to protest for Palestine. Always," said Jenin Muslet at that pro-Palestine rally. "Even though I was born in America, I'm Palestinian at heart."
Copyright 2023 KVVU. All rights reserved.