Amodei explains support for Johnson for top House job; NV Dems express concern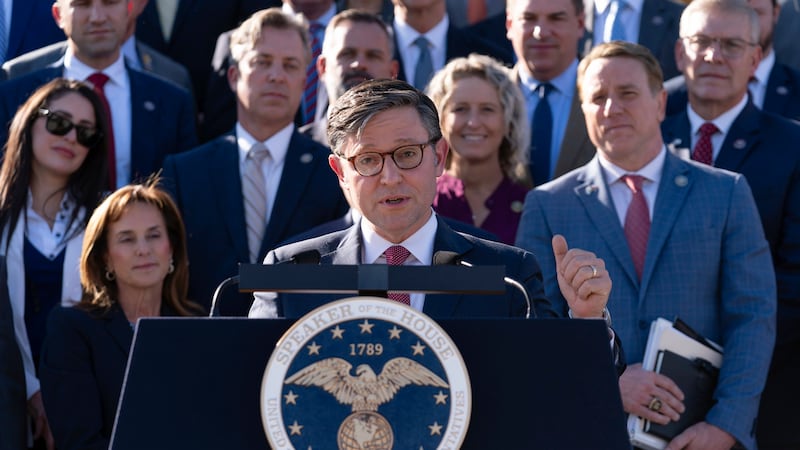 Published: Oct. 25, 2023 at 7:38 PM PDT
RENO, Nev. (KOLO) - Rep. Mark Amodei said he voted for Mike Johnson to be Speaker of the House after being assured the Louisianan would consider Nevada issues.
Amodei said he initially voted present when Johnson was under consideration for the top House leadership role.
But after calls from Rep. Steve Scalise and Johnson himself, Amodei felt comfortable supporting the Louisiana Republican.
House Republicans fired Kevin McCarthy as Speaker of the House, and Republicans sent through several candidates before giving Johnson 220 votes on Wednesday. He needed 217.
Amodei said he wanted to tell Nevada Republicans he supported Johnson after confirming he was aware of his agenda with lands bills, preserving the railyard roundhouse in Sparks and getting C-130 aircraft for the Nevada National Guard, among other issues.
He had a 30-minute conversation with Johnson on Tuesday night.
"I am happy to report this conversation went well," Amodei said in an interview with KOH. "His chief of staff was in my office this morning at 10 a.m."
Rep. Susie Lee said in a statement the Republicans caved to the extremists in the party.
"Mike Johnson was a key architect of the treasonous plot to overturn the 2020 election," the Southern Nevada Democrat said "He has championed a national, total abortion ban with no exceptions for rape or incest, and he wants to slash your hard-earned social security benefits."
Democratic Rep. Steven Horsford, whose district includes parts of central Nevada, said he continues to work to help Nevadans.
"I can only hope that as speaker, Rep. Johnson will put the extremism aside and allow the People's House to get to work on keeping our government open and our families in Nevada and across the country safe, secure, and prosperous," Horsford said.
Democrat Dina Titus, Nevada's fourth member of the House, said it's time for Republicans to work with Democrats to prevent a government shut down, give aid to overseas allies and cut costs for families.
"His support for overturning the 2020 election, advocating for a nationwide abortion ban, opposing same-sex marriage, and voting against expanded benefits for veterans raises serious concerns," Titus said in a statement.
Copyright 2023 KOLO. All rights reserved.