Police body cam video released in arrest of Las Vegas teen accused in hit-and-run death of bicyclist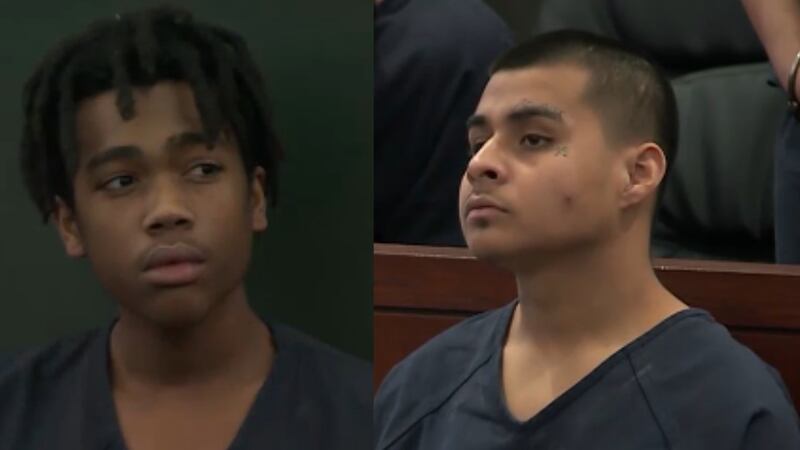 Published: Oct. 24, 2023 at 7:34 PM PDT
LAS VEGAS, Nev. (FOX5) - Police video shown as evidence to a grand jury has provided a different perspective on two teenagers charged as adults after deliberately running down two cyclists.
Jesus Ayala and Jzamir Keys were 17 and 16 years old at the time of the incident. Their trial for the murder of Andreas "Andy" Probst, 64, is set to begin next year.
Video from a Las Vegas police patrol car on the day of the suspects' arrests sheds new light on the situation as Ayala and Keys prepare to face 14 felony charges.
"Is it really that serious?" Ayala asked. "Over supposedly me crashing a car?"
"It's a lot worse than that," the LVMPD officer replied.
Ayala and Keys are accused of initially burglarizing an elderly woman's home. They then reportedly stole her car, used it to intentionally run down two different cyclists and recorded their actions on video.
"How long you think I'm going to be in jail for?" Ayala asked.
"Hopefully for like 20-30 years," the officer answered.
Ayala then asked if his actions might result in him ending up on the news.
"It won't be for anything good," the officer told him. "It won't make your mama proud."
A jury trial for Ayala and Keys is set to begin in Clark County District Court on September 16, 2024.
Copyright 2023 KVVU. All rights reserved.