No gun, no car, no living witnesses against man charged in Tupac Shakur killing, defense lawyer says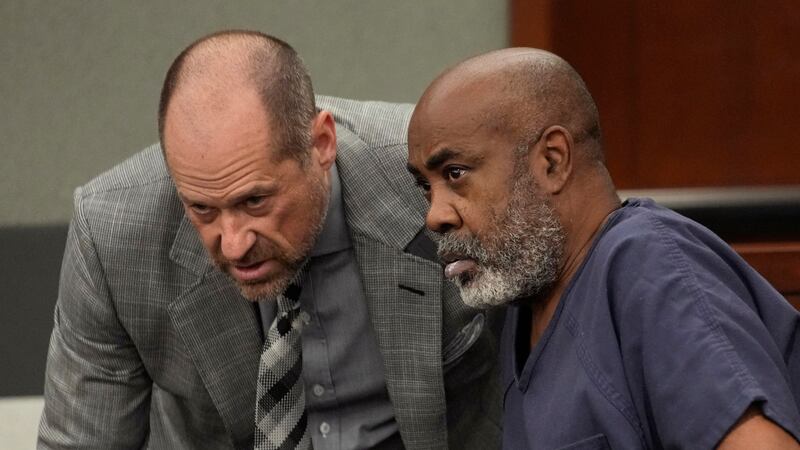 Published: Oct. 19, 2023 at 6:36 AM PDT
LAS VEGAS (AP) — A lawyer speaking for the former street gang leader charged with killing Tupac Shakur in 1996 said Thursday he sees "obvious defenses" in the murder case in Las Vegas.
"There's no gun, there's no car and there's no witnesses from 27 years ago," attorney Ross Goodman told reporters after the briefest of court hearings, at which he told a Nevada judge he was close to being hired to represent Duane "Keffe D" Davis.
Clark County District Judge Tierra Jones gave Davis and Goodman two weeks to reach agreement, saying she wants to "get this case moving." She reset Davis' arraignment for Nov. 2.
Goodman told reporters that although he doesn't yet represent Davis, he expects Davis will plead not guilty and seek release from jail pending trial. Clark County District Attorney Steve Wolfson did not respond to messages about Goodman's comments.
Davis, 60, is being held at the Clark County Detention Center in Las Vegas without bail. He is originally from Compton, California.
He was arrested Sept. 29 outside a home in suburban Henderson where Goodman said he has lived for more than a decade. Davis told police that he moved there in January because his wife was involved in opening grocery stores in Nevada.
Davis is accused of orchestrating and enabling a drive-by shooting that killed Shakur and wounded rap music mogul Marion "Suge" Knight after a brawl at a Las Vegas Strip casino involving Shakur and Davis' nephew, Orlando "Baby Lane" Anderson.
In interviews and a 2019 tell-all memoir that described his life as a leader of a Crips gang sect in Compton, Davis said he obtained a .40-caliber handgun and handed it to Anderson in the back seat of a car from which he and authorities say shots were fired at Shakur and Knight in another car at an intersection near the Las Vegas Strip. Davis didn't identify Anderson as the shooter.
Shakur died a week later at age 25 in a nearby hospital. Knight was wounded but survived. Now 58, Knight is serving a 28-year prison sentence for the death of a Compton businessman in 2015.
Anderson denied involvement in Shakur's death and died in a May 1998 at age 23 in a shooting in Compton. The other two men in the car are also dead.
A Las Vegas police detective testified to a grand jury that police do not have the gun that was used to shoot at Shakur and Knight, nor did they find the vehicle from which shots were fired.
Copyright 2023 The Associated Press. All rights reserved.