Update on crime rates near UNLV after Las Vegas police deemed area 'crime hot spot'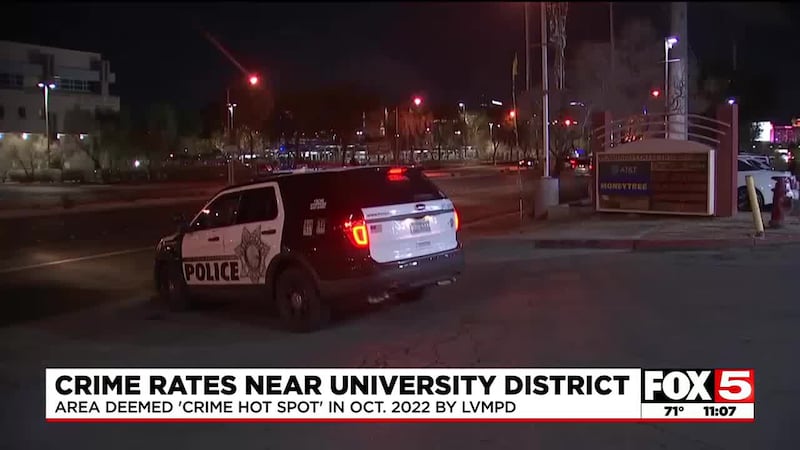 Published: Oct. 12, 2023 at 7:46 AM PDT
LAS VEGAS, Nev. (FOX5) - Friday, October 13, will mark one year since Las Vegas Metropolitan Police Department officer Throng Thai was killed in the line of duty. He was shot by a domestic violence suspect in the area of Flamingo and University Center, an area Metro says was a known hot spot for violent crime.
The area saw two officers shot in two months and several other murders before that, including a string of stabbings that forced police to make a change in the surrounding area. Their solution, in part, was to bring in more officers.
Since then, crimes did drop right after last year's incidents, but they have leveled out to about the same as they were before. Some folks in the area don't feel safe, and think it's gotten worse.
"This is one of the worst areas I've ever experienced," Alexis Esparza, a server at Kabob Korner, located at Flamingo and University Center, told FOX5 Wednesday. "Especially at nighttime leaving, you know, being a female, and closing shift. You've just got to watch your surroundings at all times over here."
Esparza says she's not noticed a large Metro presence lately.
"Being close to the Strip, I feel like they should have a lot more patrol cars around here helping individuals that are scared at night," she said.
Esparza's fellow server at Kabob Korner agrees, and says the crime is almost exclusively committed by the residents of nearby tunnels.
"They're left to their own devices, and they come up here and they pillage," Christopher Wultsch described.
FOX5 checked in with the owner of Lali Vegas Smoke Shop and Vape in January and again on Wednesday. She says in the immediate aftermath of the Metro officer's death at that intersection, there were increased patrols. Four months ago, though, crimes hit her business too close to home.
"We got robbed," Christy Esparza recalled. "Three guys. One came through the ceiling. The other two were let in. We don't close anymore. We're open 24 hours now because of that incident."
Despite the fact that crimes against people are lower now than they were last October, both Esparzas don't feel safe.
"My uncle has provided me with pepper spray and things like that that I'm able legally to carry around the area," Alexis Esparza said.
Metro crime data also shows a sizeable drop in property crimes in the area, decreasing by 22% from August to September this year.
Copyright 2023 KVVU. All rights reserved.