Nevada governor files lawsuit challenging ethics censure, fine over use of badge on campaign trail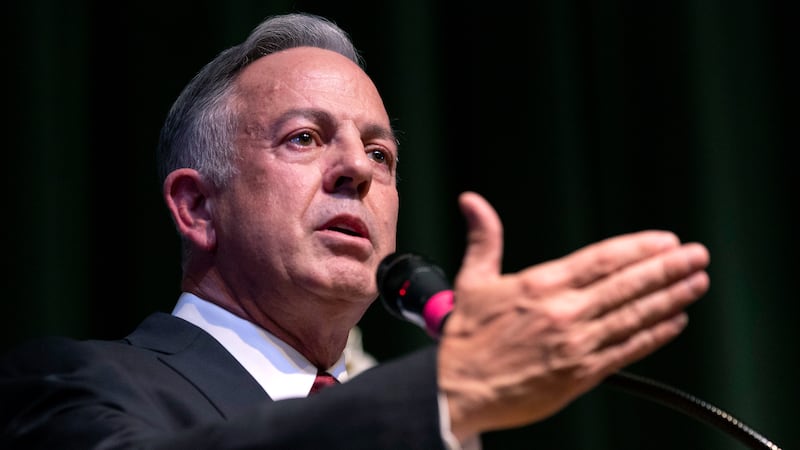 Published: Oct. 3, 2023 at 6:54 AM PDT
RENO, Nev. (AP) — Nevada Gov. Joe Lombardo filed a lawsuit challenging the state ethics commission's authority to censure and fine the former Clark County sheriff for using his publicly issued sheriff's uniform and badge during his 2022 gubernatorial campaign.
In July, the Nevada Commission on Ethics found Lombardo guilty of violating ethics law after his campaign posted four photos of him wearing his county-issued sheriff's badge on campaign materials. That was found to have violated a statute that bars the use of government resources to secure a private interest without warrant for each image or video.
The lawsuit, filed last week in Carson City District Court, attempts to circumvent the state ethics commission's authority to hand out such fines, claiming that it violates the separation of powers principles in the state constitution. Lombardo's lawyers argue that this is because the state legislature appoints half of the commission's members.
It also attempts to permanently bar the commission from conducting any investigations or penalties over the governor.
The July ruling, they argue, is "arbitrary, capricious and/or an abuse of discretion."
"The Ethics Law improperly deprives the Governor of authority to appoint all commission members or otherwise oversee the commission," states the lawsuit, which was first reported by The Nevada Independent. "And improperly confers on the legislature the right to appoint half the commissioners."
While Lombardo received a censure and a $20,000 fine, he ultimately avoided being fined nearly $1.67 million that the commission's executive director, Ross Armstrong, initially sought from the commission for 68 alleged violations — two for each of the 34 times the campaign posted one of the four photos.
In an emailed statement on Monday, Armstrong said he could not comment on pending litigation.
Lombardo spokesperson Elizabeth Ray referred comments to the governor's counsel. The counsel did not respond to a request asking if they had any comment beyond the filing's contents.
Copyright 2023 The Associated Press. All rights reserved.