New 911 software expected to improve first response times in northern Nevada
Rollout underway after being approved by Sparks City Council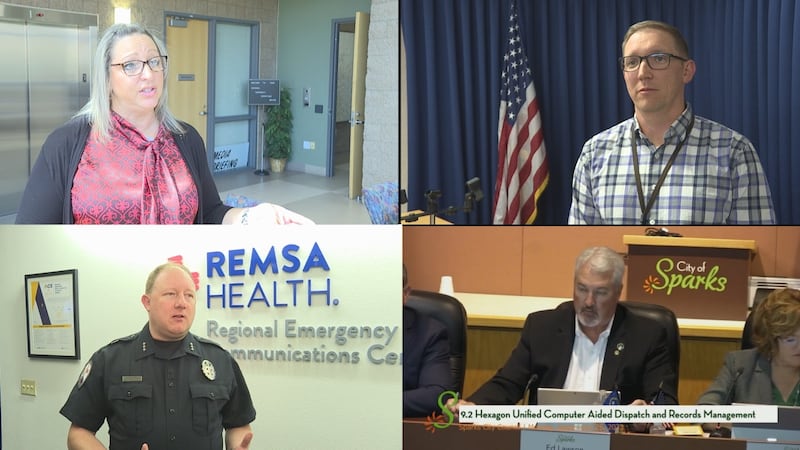 Published: Sep. 26, 2023 at 2:08 PM PDT
RENO, Nev. (KOLO) - Calling 911 is rarely easy, but now the four entities involved in doing that are coming together to improve the process.
"The system we use is over 20 years old," explained Cody Shadle, Director of public safety dispatch for the City of Reno. "People are telling us we need better."
The City of Sparks unanimously approved the implementation of the Hexagon Unified Computer aided dispatch system on Monday, September 25th, which cleared the way for the rollout because the City of Reno, Washoe County, and REMSA Health had already done so.
"We evaluated multiple vendors and decided this is going to provide the most functionality and give every agency the chance to configure it as they want to."
One of the things the new system will do is to allow information to be seamlessly shared amongst the different agencies, which will prevent people calling 911 from having to repeat themselves.
"It will make it easier for people as they aren't so frustrated when they call in and are asked the same question multiple times," explained Jennifer Felter, Dispatch Manager for Washoe County.
First responders we spoke to say every second counts in an emergency, like for example, someone having a heart attack.
"When someone is having a heart attack, seconds matter," stressed Adam Heinz, Chief Operating Officer at REMSA Health.
Full implementation will not be cheap and will not be quick. It will cost the agencies more than $8 million collectively and should be complete in just over two years.
"This is something our community deserves, and we need as a community," said Sparks Mayor Ed Lawson at Monday's city council meeting.
The new software is just part of the change, as this agreement includes policies that will be implemented immediately all designed to improve emergency response in northern Nevada.
Copyright 2023 KOLO. All rights reserved.