Raise money for breast cancer research during Starla's Show for the Cure at Peavine Taphouse
Published: Sep. 21, 2023 at 10:43 AM PDT
RENO, Nev. (KOLO) - Come on out to Peavine Taphouse Eats and Beats Sunday, Oct. 8 from 11:30 a.m.- 6 p.m. for Starla's Show for a Cure, as Reno's local music community comes together to supports ending breast cancer. It'll be a fantastic day of great music, food, drinks, vendors, silent auction, kids activities and so much more!
Event organizer, Mike Biselli, and Peavine Taphouse owner, Anita Noble, stopped by Morning Break to share how this event came to happen and the impact the local community has on individuals. Noble shared how this is her way of giving back after the community rallied around her daughter last year when she was struck by lightning and made a miraculous recovery.
Now Noble is committed to doing fundraisers every year in gratitude. This year choosing to help host a fundraiser in honor of Starla Campos who is a breast cancer survivor. Peavine Taphouse owner Anita Noble and her dedicated team will be preparing varied menu choices for lunch and dinner as well as all of your favorite beverages. Peavine Taphouse will donate a portion of their proceeds from food sales to the Susan G. Komen Foundation!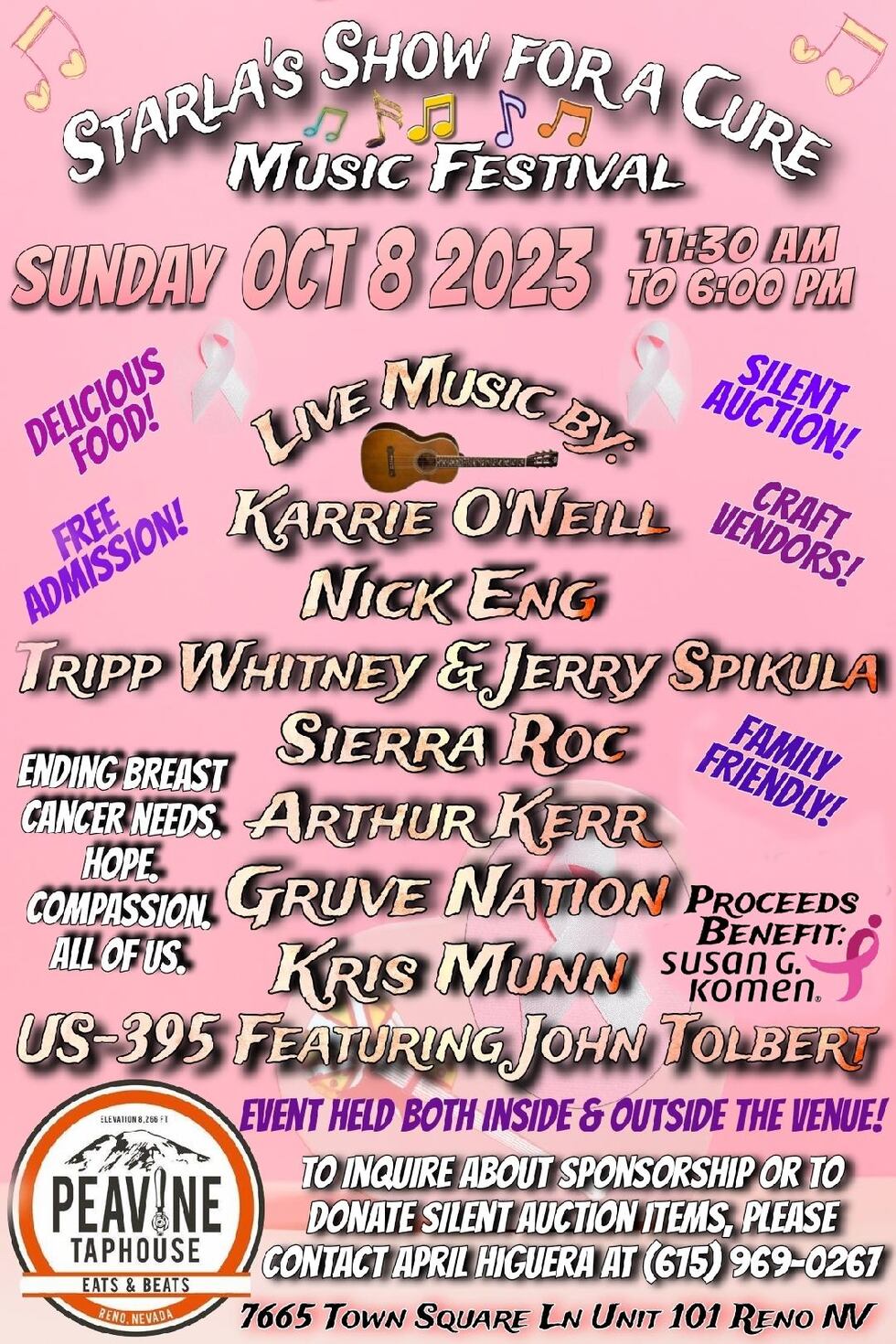 Starla's Show for the Cure includes some of Reno's best local performers volunteering their time and talents, including: Karrie O'Neill, Nick Eng Band, Tripp Whitney & Jerry Spikula, Sierra Roc, Arthur Kerr, Gruve Nation, Kris Munn, and the debut of US 395 featuring John Tolbert.
Copyright 2023 KOLO. All rights reserved.