Burning Man is ending, but the cleanup from heavy flooding is far from over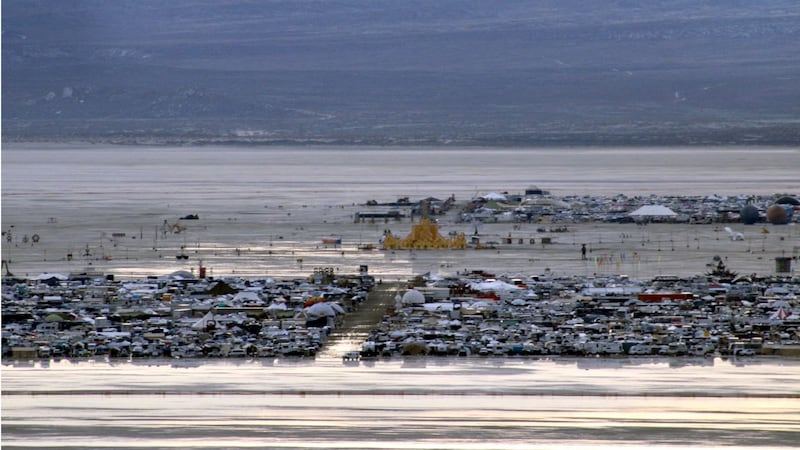 Published: Sep. 6, 2023 at 2:42 PM PDT
RENO, Nev. (AP) - The rain has passed, and the temple has burned. Now, as Burning Man slowly empties, it's time to clean up.
Burning Man organizers have three weeks to clean up the sprawling stretch of public land in the Black Rock Desert of northwestern Nevada, but a summer storm that left tens of thousands stranded in ankle-deep mud could alter that timeframe.
The annual gathering, which launched on a San Francisco beach in 1986, attracts nearly 80,000 artists, musicians and activists for a week-long mix of wilderness camping and avant-garde performances. One of the principles of Burning Man is to leave no trace — an expectation that all attendees will pack out everything they brought to Black Rock City and clean out their camps before leaving.
But in the aftermath of torrential rains that closed roads, jamming traffic, and forcing many to walk miles barefoot through the muck, the area is dotted with abandoned vehicles, rugs, furniture, tents and trash. The ground itself has deep imprints and ruts.
This week, many attendees have descended on Reno, Nevada, to congregate at the airport and get last-minute flights home. Car washes have struggled to scrape off leftover clay from the Nevada desert, according to KTVN-TV in Reno. There are signs outside nearby grocery stores banning disposal of Burning Man-related trash and recycling in their bins.
Eleonora Segreti, who lives in central Italy and made her second visit this year to Burning Man, left the playa early Tuesday. She said everyone she knew was doing everything they could to clean up.
"It's a very strong principle. Everybody, literally everybody that I know and that I talked to, they really take this 'leave no trace' idea seriously," she said while waiting for a ride Tuesday at Reno-Tahoe International Airport after taking the shuttle there. "If it is a matter of staying overnight one extra day to do the work to clean up, most of the people are doing that."
A permit issued by the U.S. Bureau of Land Management requires Burning Man organizers to clear the area of debris after vehicles exit the desert, about 100 miles (161 kilometers) northeast of Reno. Burning Man organizers did not immediately respond to questions from The Associated Press about how the rain will impact the cleanup timeline.
Last year, after the festival's return following a two-year hiatus due to the pandemic, the Burning Man team passed its inspection.
"But it was extraordinarily and alarmingly close," the restoration team's manager wrote earlier this year in a post on the Burning Man website summarizing cleanup efforts in 2022, while urging attendees to "recommit" to one of its core principals: Leave no trace behind.
The post described 2022 as one of the "messiest playas in recent history" — evidenced by a 15-yard (13 meters) dumpster filled with cardboard boxes, glass bottles, carpeted rugs and plastic debris. During its three-week cleanup last year, the restoration team also collected more than 1,000 tent stakes from the ground, which is described in the post as "the most dangerous" and "most abundant" type of debris that can be left behind on the desert floor.
Post-festival cleanup efforts also include smoothing out the dried lake bed with large rakes attached to trucks and picking up trash on the highways leading to and from Burning Man, according to Bureau of Land Management spokesperson John Asselin.
In October, teams made up of federal employees and Burning Man organizers will enter the festival site for an inspection. Event organizers will be on the hook for any repairs that are identified as necessary, Asselin said.
The celebration of free spirits in the remote desert emphasizes self-sufficiency. Many attendees — who refer to themselves as burners — arrive with limited supplies. Challenges in the form of brutal heat, dust storms and torrential rains are expected and, largely, welcomed.
While there, they build an elaborate city across 4 square miles (10 square kilometers) of colorful themed camps, decorated art cars and guerilla theatrics in preparation for the ceremonial burnings of a towering, faceless effigy and a temple dedicated to the dead. All of that is dismantled and to be hauled away when the festival ends.
Most attendees travel to the stark desert for a week to express themselves with music and art, and to commune with nature. Some visit the ancient lake bottom for a weeklong psychedelic party full of hallucinogens and nudity.
The wooden effigy burned Monday night, and the temple burned Tuesday night after being postponed because of heavy rain. More than a half-inch (1.3 centimeters) fell on Friday, turning the powdery desert floor into mud.
For many, torching the temple has become the centerpiece of the celebration — a more intimate, spiritual event than the rave party-like immolation of the figure. By tradition, revelers leave the names of departed loved ones and other remembrances to be burned in the temple.
Nevada U.S. Rep. Mark Amodei, whose district includes Black Rock Desert, said Burning Man is overall positive for his community. But there is a lack of infrastructure at times to support the temporary city — not necessarily on the festival grounds itself, but in the two-lane road that takes people from Reno to the rural Nevada desert, cutting through the Pyramid Lake Paiute Tribe's land.
Still, Amodei said, Burning Man organizers have been good partners with northern Nevada and have cleaned up after themselves in past years, as their event permit requires.
"So that's going to be a little bit more of a chore this time," Amodei told the AP. "And I'm sure they're up to the task."
Some festivalgoers plan to stay as long as it takes to clean the grounds.
"This is a national conservation area, and it's part of our mission to leave it and as good a condition as we found it," said Alexander Elmendorf, 36, who planned to stay there until Friday. "So that means getting every bed, utensil, every cigarette butt."
Copyright 2023 The Associated Press. All rights reserved.