Critical fire weather arrives in Northern California; PG&E to restore power after targeted outages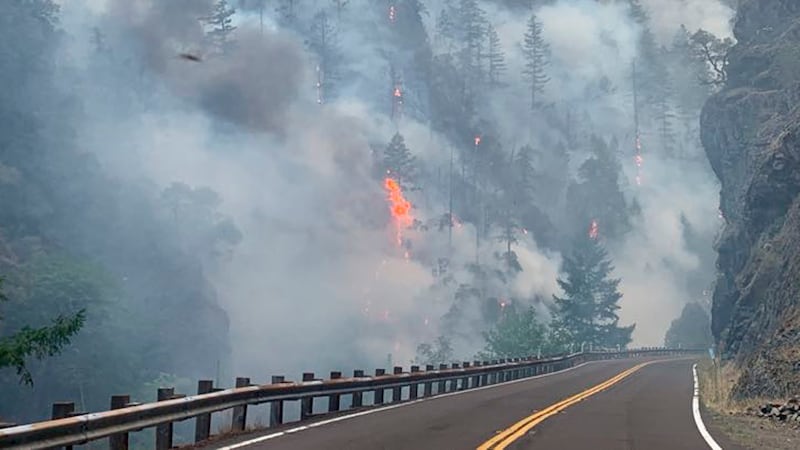 Published: Aug. 30, 2023 at 8:36 AM PDT
|
Updated: Aug. 30, 2023 at 5:25 PM PDT
SAN FRANCISCO (AP) — Gusty winds and low humidity brought a high risk of wildfires to the interior of Northern California on Wednesday, and a utility proactively cut electricity to about 8,400 customers to prevent potential ignitions in the blustery conditions.
Red flag warnings for critical fire danger were in effect until 8 p.m. in much of the Sacramento Valley and adjacent areas to the west, the National Weather Service said.
Pacific Gas & Electric said that shortly before 2 a.m., it began public safety power shutoffs in "targeted high-fire-threat areas" of eight counties. Winds calmed throughout the afternoon, and by 5 p.m. the utility issued a weather "all-clear," saying it would begin the process of restoring electricity.
The gusty northerly winds were generated in the wake of a trough of low pressure that moved through Northern California on Tuesday, the weather service said.
Public safety power shutoffs are intended to prevent fires from starting when power lines are downed by winds or struck by falling trees or windblown debris. Such fires have caused extensive destruction and deaths in California.
The issue of power shutoffs surfaced in Hawaii after the deadly fire that destroyed the Maui community of Lahaina. Maui County claims the Hawaiian Electric Company negligently failed to cut power despite high winds and dry conditions. The utility acknowledges its lines started the fire, but it faults county firefighters for declaring the blaze contained and leaving the scene.
Wednesday's proactive power cuts were PG&E's first since 2021. PG&E first implemented the shutoffs in 2019, leaving nearly 2 million people in the San Francisco Bay Area and elsewhere in Northern California without power and drawing fierce criticism.
The utility has since been able to reduce the impact by adding more circuit switches to its grid, allowing it to more precisely determine which customers will lose power, said Paul Moreno, a PG&E spokesperson.
PG&E also added hundreds of weather stations in areas prone to wildfires, and now it has nearly 1,500 units that provide information on when fire conditions are present and when those conditions have passed, he said.
California has so far avoided widespread wildfires this year following an extraordinarily wet winter and cool spring that melted the mountain snowpack slowly. Downpours from recent Tropical Storm Hilary further dampened much of the southern half of the state.
Major fires have been limited to the southeastern desert and the lightly populated far northwest corner of the state where lightning ignited many blazes this month.
___
Antczak reported from Los Angeles.
Copyright 2023 The Associated Press. All rights reserved.