Multiple people washed away by flood waters in Las Vegas canals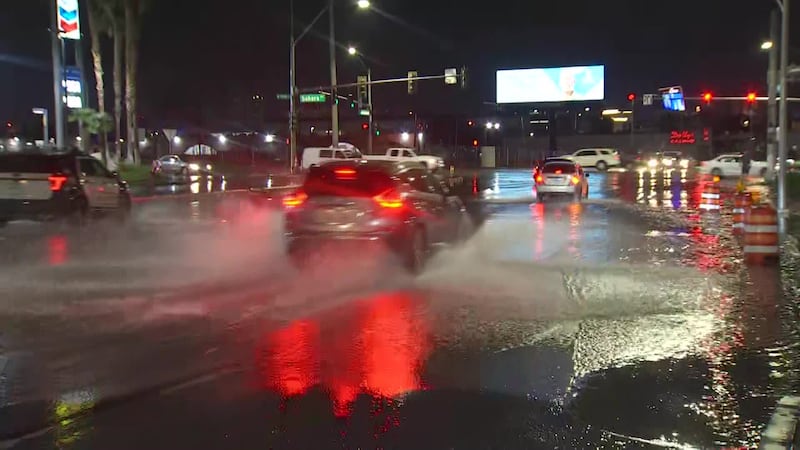 Published: Aug. 23, 2023 at 11:00 PM PDT
LAS VEGAS, Nev. (FOX5) - Las Vegas police and other agencies responded to several calls of people washed away by flood waters which stemmed from sporadic rainfall in the valley.
Emergency crews responded to the area of Sahara Avenue and Lamb Boulevard regarding a male being washed away. Park police attempted to rescue the man but were unsuccessful.
Metro told FOX5 they received calls from several residents who said there may be two additional people also washed away near Nellis and Sahara. Las Vegas first responders arrived and were able to rescue one person.
A woman was believed to be missing in the flood waters, according to Metro.
Another rescue happened, police told FOX5, at Koval and Winnick. Officers responded to the wash area next to the intersection after several people called regarding people being washed away in the canal. One person was rescued, but a woman is believed to be missing.
On Thursday, Clark County provided a report with more details on its flash flood response efforts.
"The Clark County Fire Department (CCFD) responded to two separate reports of people in the Flamingo wash between the hours of 8:59 PM and 9:23 PM on Wednesday evening, August 23rd, 2023. The first report was for three persons in the wash near Winnick and Koval Lane," the report stated.
CCFD said it responded with three engines, one heavy rescue unit, one rescue, and a battalion chief at 8:59 p.m. The first unit arrived at Winnick and Koval to find one person on the edge of the rapidly moving water and CCFD assisted the male out of the water.
The male reported two additional persons, one male and one female, were swept downstream. Later reports from additional reporting parties claimed a possible third victim was seen in the water.
CCFD said it positioned personnel downstream along the wash with swift-water rescue equipment in an attempt to be able to spot and rescue potential victims. Crews downstream reported contacting third-party witnesses who claimed to see two people who matched the original description climb out of the water. Aside from the male who was helped from the water, none of the other three victims was ever spotted by CCFD personnel.
At 9:23 PM, CCFD responded to Boulder Hwy. and Sahara with two engines and one battalion chief for reports of at least one person in the rapidly moving water. CCFD arrived to find the Clark County Office of Public Safety and the Las Vegas Metropolitan Police Department (LVMPD) on the scene.
CCFD, CCOPS and LVMPD spread along the wash from Boulder Hwy. to Nellis. The victim was last reported seen at Nellis and Sahara.
Crews positioned along the banks downstream to at least Sloan. The LVMPD air unit was utilized in an attempt to locate any persons in the wash both up and downstream from the reported last known location, but all attempts were unsuccessful.
On the morning of Thursday, August 24, CCFD patrolled the Flamingo wash from Nellis to Desert Inn in an attempt to locate any people who may have been swept downstream and caught in debris and shrubbery along the shoreline. None were found.
CCFD responded to both incidents with five engines, one heavy rescue, one rescue, two battalion chiefs and a total of 28 personnel. CCFD was assisted by LVMPD, CCOPS, Las Vegas Fire and Rescue, and private ambulance companies.
The department noted that the water in Clark County's storm drains and washes moves at "an alarming and dangerous rate and many times without warning." It added that victims can be carried downstream faster than emergency responders receive a call and have the opportunity to react.
The report added that after stormwater moves through washes, the debris piles remaining are extensive and reveal areas where a victim moving in the water could have been caught and hidden from crews searching during the event or afterward. It is always recommended to stay out of washes and storm drains regardless of weather reports and sky conditions.
Copyright 2023 KVVU. All rights reserved.