Sandbag locations for western Nevada as Hurricane Hilary moves inland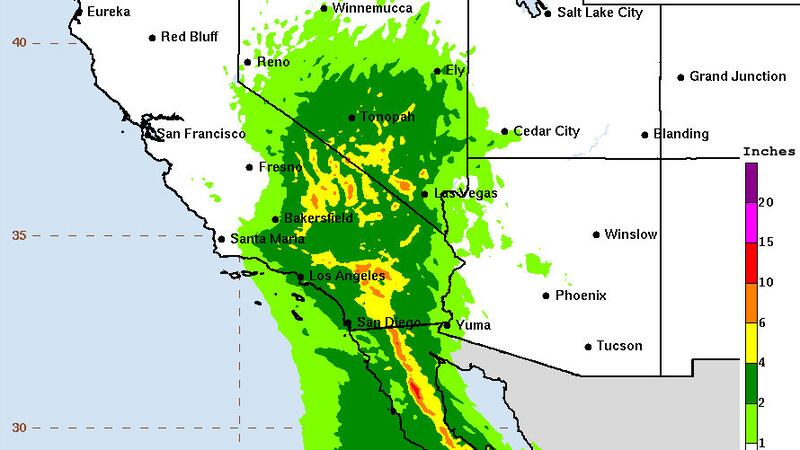 Published: Aug. 19, 2023 at 1:38 PM PDT
RENO, Nev. (KOLO) -As Hurricane Hilary moves inland it is forecast to reach into central Nevada.
The U.S. National Weather Service said the greatest impacts in our area will be in Mineral, Lyon and Mono counties. More than an inch could fall in the Reno area and the Lake Tahoe basin, the weather service said.
Some agencies are putting out sandbags for the public. People should bring their own shovels.
Here is the available sandbag information:
The city of Reno reported these are typical sandbag locations:
Mira Loma Park, 3000 South McCarran Blvd.

Intersection of Moya Blvd. and Red Baron Blvd.

Reno Fire Station #5, 1500 Mayberry Drive

Horseman's Park, 2800 Pioneer Drive.

Idlewild Park – Peace Officer Memorial, 2055 Idlewild Drive

City of Reno Corporation Yard, 1640 East Commercial Row
Washoe County information
Truckee Meadows Fire Protection District Station #223, 130 Nectar St., Lemmon Valley

Lemmon Drive and Pompe Way intersection, Lemmon Valley

Silver Knolls Volunteer Fire Station 11525 Red Rock Road

Golden Valley Park 7490 Hillview Drive

Blue Heron Circle and Warrior Lane intersection, Belli Ranch

Washoe County Operations Yard, 3101 Longley Lane, Reno

Highland Ranch Parkway, one mile west of Pyramid Hwy, Sparks

Intersection of Toll Road and Geiger Grade

Andrew Lane and Paddlewheel Lane intersection, Pleasant Valley

Pleasant Valley, Pagni Lane and U.S. 395

East Washoe Valley 1240 Eastlake Blvd.

East Washoe Valley, Eastlake Boulevard and Gander Lane
City of Sparks:
No information available.
Lyon County information:
Fire Station #35 - 231 Corral Dr., Dayton, NV 89403

Fire Station #39 - 460 Dayton Valley Rd., Dayton, NV 89403

City of Fernley Out of Town Park, Farm District Road and Highway 95A, Fernley, NV 89408 (East end of Rodeo Grounds)

Mound House Fire Station – 56 Red Rock Rd., Mound House, NV 89706

Silver City Community Center - 385 High St., Silver City, NV 89428

Silver Springs JPO Office - 1075 Pyramid Ave., Silver Springs, NV 89429

Smith Valley – 2308 NV-208, Smith, NV 89430 (by the Post Office)

Dressler Park Community Arena - 2715 Hwy 208, Wellington, NV 89444

Stagecoach Community Center - 8105 US-50, Stagecoach, NV 89429

City of Yerington Public Works 215 Towbridge Rd, Yerington, NV 89447 (behind Raleys)

Lyon County Roads Yard – 18 Hwy 95A North, Yerington, NV 89447

Mason Town Hall building - 55 Bridge Street, Mason, NV 89447

Lyon County Fairgrounds - 100 US Highway 95A E, Yerington, NV 89447
Storey County information:
Mark Twain Community Center (500 Sam Clemens Ave. Dayton)

Ice House (end of Toll Rd. Virginia City)

Virginia Highlands Fire Station (2610 Cartwright Rd. Virginia Highlands)

Lockwood Fire Station (431 Canyon WY, Lockwood)
Douglas County information:
Topaz Ranch Estates Community Center

3939 Carter Dr. Wellington, NV 89444
Churchill County
No information available
Mineral County
No Information available
El Dorado County
No information available
Mono County
Inyo County
Copyright 2023 KOLO. All rights reserved.