Jelly Roll and wife Bunnie XO grant dying wish to woman with 5 months to live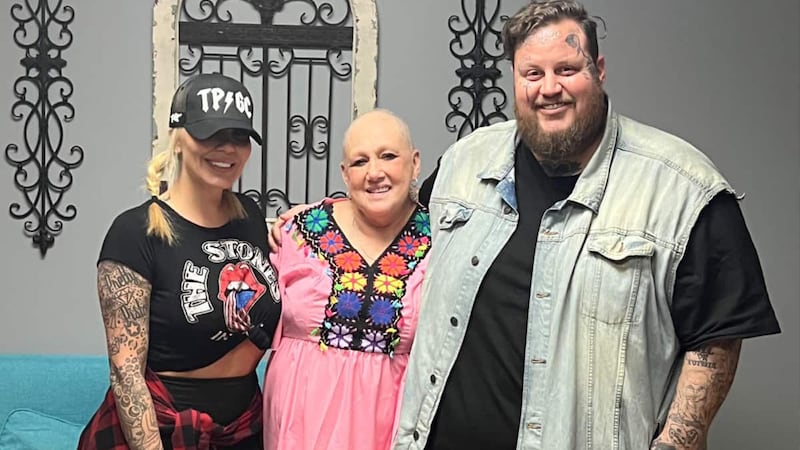 Published: Jul. 21, 2023 at 2:23 PM PDT
(Circle) - Jelly Roll and his wife Bunnie XO demonstrated their incredible compassion by fulfilling a dying wish of a terminally ill cancer patient.
Suzanne Durham, 65, of Nashville, Tennessee, is currently in a critical fight for her life. She was diagnosed with stage 4 small cell carcinoma, and she was given a prognosis of five months to live.
Through a TikTok video posted by the James Bess Foundation, Suzanne Durham, a former house manager for women recovering from drug and alcohol addiction, bravely shared her heartbreaking diagnosis.
In the emotional clip, she expressed her deep desire to meet and share a meal with Jelly Roll as her dying wish.
The TikTok video caught the attention of Bunnie XO, who responded with a heartfelt comment, assuring Durham that her wish would be granted.
Durham was treated to a remarkable experience at Life Church in Nashville, where she had the privilege of a personal meet-and-greet and an intimate concert with Jelly Roll and his wife.
In addition to serenading Durham with a selection of songs, which included both covers and popular hits like "Son Of A Sinner" and "Need A Favor," Jelly Roll and Bunnie XO had dinner with Durham along with her dearest friends and family.
After spending the day with Durham, Bunnie XO expressed her own sentiments in a Facebook post. She shared that while she and Jelly Roll had fulfilled Durham's wish, they also received an unexpected gift in return.
The experience provided them with a profound and enlightened perspective on the true essence of life and what truly matters.
"When I tell you it was 'Chicken Soup for the Soul' and everything I needed at that moment, God works in mysterious ways because just seeing this woman that has been given, I believe, five months to live, who has spent her entire life trying to help other people, even her last dying wish, she wanted her friends to be there to be able to experience this with her," Bunnie XO said in the video.
"She was just so happy that she could give back to her friends that were in recovery and people that she helped in recovery when she got sober. And man, that's what life is all about."
Originally appeared on Circle All Access. https://www.circleallaccess.com/
Copyright 2023 Gray Media Group, Inc. All rights reserved.