World Refugee Day celebration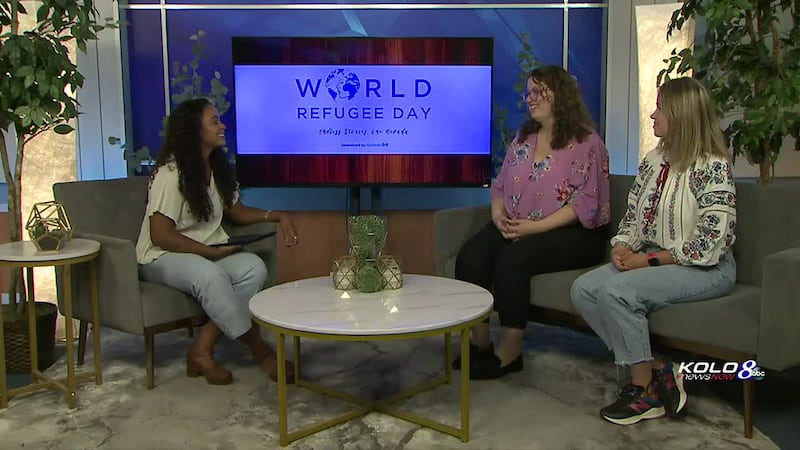 Published: Jun. 25, 2023 at 5:34 PM PDT
RENO, Nev. (KOLO) - June 25 is World Refugee Day and the Reno-Sparks community celebrated at Miguel Ribera Park with dancing, food trucks, and flower crown making.
Carina Black, the Executive Director of the Northern Nevada International Center (NNIC), says that today is am important day to remember that not everyone has a safe country to live in, and that this day celebrates refugee's resilience.
"Today is a day to celebrate their resilience, and their being part of many different families, their supporting each other and so it's a wonderful day to be around."
Elizabeth Sierova, a Ukrainian refugee, says that leaving her family and friends was difficult, but it was no longer safe to live in Ukraine. She speaks about the importance of having a community to turn to for friends, consolation, and helpful advice.
"I realize there are lots of Ukrainians here and its great so we can meet each other. Some live here for a long time and some are new refugees, and they share their stories and I know that for everyone, it wasn't easy in the beginning and when you hear some success stories you say, 'oh yes, I will also achieve.'"
Some felt that the process to come to the United States was easy, but agree it was leaving their home country and families that was the hardest.
Mazan Alkherdj, a refugee from Syria, says, "[The refugee application process] was not difficult, it was easy, but you know we left Syria, and I miss Syria."
This events also celebrates the NNIC helping to resettle more than 500 refugees here in the Reno-Sparks area.
Copyright 2023 KOLO. All rights reserved.