'That could be me and my son': Las Vegas father and son turned down seats on Titanic submersible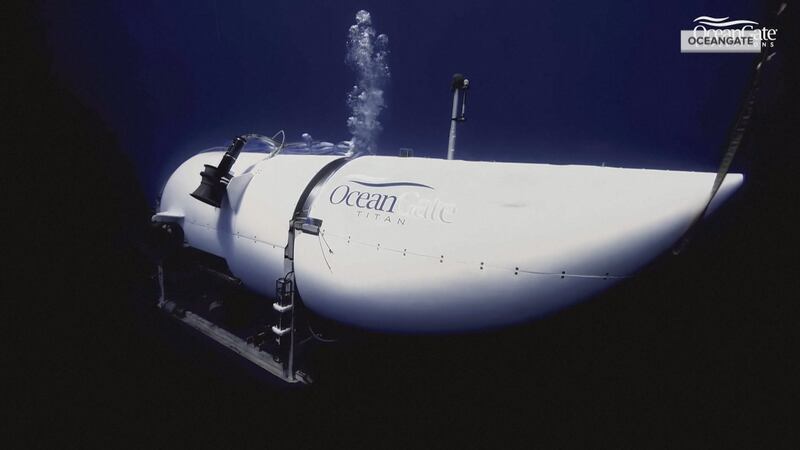 Published: Jun. 23, 2023 at 10:37 PM PDT
LAS VEGAS, Nev. (FOX5) - As crews finish up an investigation into the implosion of the Titan, which killed all five people on board, a Las Vegas family is working through a wide array of emotions.
"I just kept seeing pictures of the victims," local investor Jay Bloom told FOX5 Friday. "And but for the grace of God, that could be me and my son."
Last year, Bloom was introduced to Stockton Rush, co-founder of OceanGate, the company that built the Titan. Rush invited Bloom on an expedition to the wreck of the Titanic in the custom-made sumbersible.
"It sounded at first very exciting, very sexy," Bloom remembered. "Like an amazing experience."
But Bloom was off-put by the way Rush said he flew into Las Vegas on an experimental two-seater plane that he built.
"This guy is coming into Las Vegas in an experimental plane that he built to pitch me on going on an experimental sub that he built to go to the bottom of the Atlantic Ocean," Bloom recalled.
Bloom's son Sean was also invited, and was up for it at first.
"I was obsessed with the Titanic as a little kid," Sean explained. "It was one of my favorite things to talk about."
But after doing some research, he realized it might not be a good idea.
"I was like, 'Hey, I think thing's going to implode.'" Sean recalled. "'I don't think it can make it to the bottom of the ocean, and if it has before, I don't know how that's possible.'"
The Titan had been to the ocean floor three times before, but still, Sean brought his concerns to his dad, particularly about the carbon-fiber hull.
"Three times just wasn't enough for me," Sean explained. "Something just felt so off about it this time."
Jay asked Rush about the safety of the trip. The OceanGate CEO called up Sean and his friend, who was helping with his research.
"Stockton called us 'The Misinformed,'" Sean said. "And I'm like, 'Maybe we are misinformed. Maybe we don't know what we're talking about.' But it just didn't seem safe."
"I think what happened is he was so passionate about this project that it clouded his judgment," Jay said about Rush. "He was making emotional decisions, not rational decisions. Anybody who brought any safety concerns to him, he would just rationalize away. It was just a differing opinion and he's doing things different, and the industry's just kind of set in its ways."
Jay credits Sean with sniffing out disaster before it happened, but he still needed a creative way to tell Rush they were not going, especially after Rush offered them discounted tickets just weeks before the voyage was set to begin.
"I knew that if I told him that we didn't want to go because of safety concerns, he would've just negated it and fought me on it," Jay said. "So I just told him it was a scheduling conflict."
And now, after the disaster, Jay and Sean are still grappling with all the emotions this week has brought them.
"I just kept seeing pictures of the victims," Jay said as he described the last few days. "And but for the grace of God, that could be me and my son."
"The fact that it was a father and son, the son being close to my age, is really crazy," Sean said. "And the son also being the one that had doubts about going, and the dad who really wanted to go, kind of like the situation with me and my dad. And then the fact that we didn't go and our tickets went to those exact people for the same trip. That father and son. That could've been us."
Both Jay and Sean say this week has opened their eyes.
"Both my son and I look at this as an opportunity to prioritize what's truly important," Jay said.
Copyright 2023 KVVU. All rights reserved.