Las Vegas man jailed, accused of threatening mass violence at Stanley Cup victory parade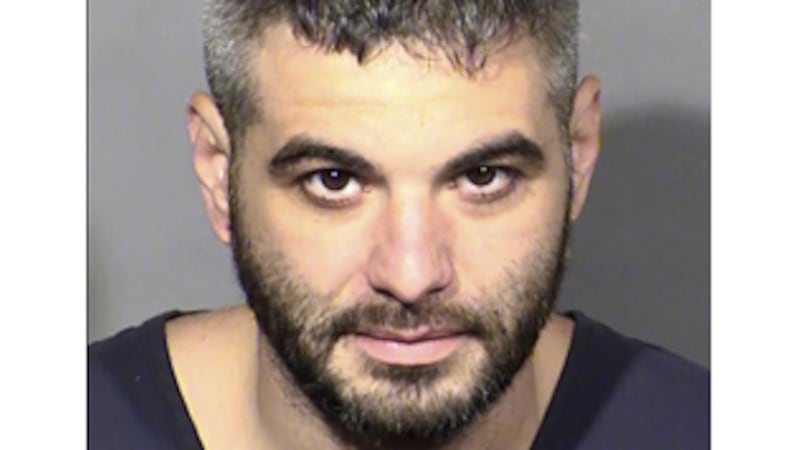 Published: Jun. 21, 2023 at 3:35 PM PDT
LAS VEGAS, Nev. (AP) - A man accused of threatening mass violence at a parade last weekend celebrating the Vegas Golden Knights victory in the NHL Stanley Cup championship was ordered Wednesday to remain jailed unless he can post $55,000 bail and enroll in a high-level electronic monitoring program.
Anthony Zuccaro, 31, remained in custody following court appearances in separate cases alleging that he damaged Nevada State Police vehicles with his motorcycle and threatened to either drive a truck into throngs of hockey fans or use gasoline bombs to injure police and revelers on the Las Vegas Strip.
Zuccaro's cases are separate from one involving a 33-year-old man with a history of mental illness who was arrested and jailed last week after allegedly threatening a mass shooting during the Stanley Cup final game on June 13.
"I'm not dangerous," Zuccaro said during the first of two appearances before different judges Wednesday in Las Vegas Justice Court. Standing in shackles as he faced felony vehicle damage and misdemeanor reckless driving charges in the state police vehicle damage case, Zuccaro added that he was "building a life in Las Vegas."
Prosecutor Taylor Reeves told the judge that Zuccaro works at a Las Vegas casino and was from New York but has lived in Nevada for almost two years.
Zuccaro was arraigned minutes later before a separate judge on a felony false threat charge alleging an act of terrorism threatening the Golden Knights parade.
According to a Las Vegas police report, Zuccaro was arrested at home after 2 a.m. Saturday following a series of audio-recorded telephone calls to crisis hotlines in Nevada and Arizona in which he allegedly admitted he had smashed windows and side mirrors of police vehicles.
Zuccaro's "comments became more and more violent," police said a crisis support worker told investigators, "until he started making statements that he intends on carrying out a mass attack ... on Las Vegas Boulevard during a parade celebrating the Staley Cup victory" and then induce police to shoot him dead.
"He further stated that he was targeting the event due to the presence of many cameras" and that "his estranged girlfriend and her new boyfriend would also be present," the police report said. "He hoped to incite mass panic and many deaths."
Two public defense attorneys who separately represented Zuccaro in his cases did not respond to email messages about whether they would seek a mental health evaluation to determine Zuccaro's competency to face charges.
The judges set his next court dates for July 5 and July 6.
In the shooting threat case, a state court judge is due on July 12 to consider ordering a forensic evaluation by state psychiatrists of Matthew Michael DeSavio, 33.
DeSavio is accused of threatening to "shoot up" the Golden Knights game against the Florida Panthers at T-Mobile Arena. He allegedly described in text messages, phone calls and social media posts his intent to carry out a massacre comparable to a October 2017 mass shooting on the Strip that killed 60 people and injured more than 850 — the deadliest mass shooting in modern U.S. history.
Copyright 2023 The Associated Press. All rights reserved.