MLB to start months-long approval process for Oakland Athletics' move to Las Vegas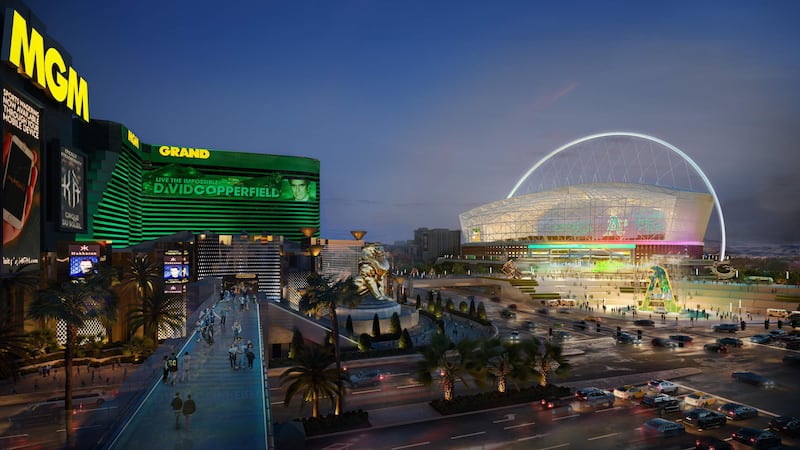 Published: Jun. 15, 2023 at 1:33 PM PDT
NEW YORK, New York (KOLO) - Major League Baseball will start a months-long approval process for Oakland Athletics' proposed move to Las Vegas, which appears set to become the second shift of a franchise in the last half-century.
A day after the Nevada Legislature approved $380 million in public financing for a ballpark on the Las Vegas Strip, baseball Commissioner Rob Manfred bemoaned the team's inability to obtain a new stadium in Oakland and defended A's owner John Fisher, who has maintained public silence.
"I feel sorry for the fans in Oakland. I do not like this outcome. I understand why they feel the way they do," Manfred said Thursday during a news conference following an owners meeting. "I think that the real question is what is it that Oakland was prepared to do? There is no Oakland offer. They never got to the point where they had a plan to build a stadium at any site."
Manfred said the team must submit a relocation application explaining its efforts in Oakland and why Las Vegas is a better market. The committee will define the new operating territory and television territory, then makes a recommendation to Manfred and the eight-man executive council. The group makes a recommendation to all clubs, which must approve the move by at least three-quarters vote.
Oakland Mayor Sheng Thao denied the claim the city had made no ballpark offer.
"There was a very concrete proposal under discussion and Oakland had gone above and beyond to clear hurdles, including securing funding for infrastructure, providing an environmental review and working with other agencies to finalize approvals," spokeswoman Julie Edwards said in a statement. "The reality is the A's ownership had insisted on a multibillion dollar, 55-acre project that included a ballpark, residential, commercial and retail space. In Las Vegas, for whatever reason, they seem satisfied with a 9-acre leased ballpark on leased land. If they had proposed a similar project in Oakland, we feel confident a new ballpark would already be under construction."
Manfred said there will not be a relocation fee.
"It has always been baseball's policy and preference to stay put. And I think that always colors any conversation about relocation," Manfred said. "Having said that, I think that the owners as a whole understand that there has been a multiyear and approaching a decade effort where for the vast majority of the time the sole focus was Oakland."
Las Vegas would become the fourth home for a franchise that started in Philadelphia from 1901-54, moved to Kansas City for 13 seasons and arrived in Oakland for 1968.
John Fisher, son of the founders of Gap. Inc., took over as controlling owner in 2016 from Lew Wolff, who had headed the A's since 2005. After announcing plans to build ballparks at Fremont (2006), San Jose (2012) and the Oakland waterfront (2018), the A's said on April 19 they had agreed to buy land close to the Las Vegas Strip. That got replaced in a deal announced May 15 to build on the Tropicana hotel site on the Strip.
"It's not just John Fisher," Manfred said. "You don't build a stadium based on the club activity alone. The community has to provide support. And at some point you come to the realization it's just not going to happen."
The A's would be the second MLB team to change cities in more than a half-century. Since the Washington Senators became the Texas Rangers for 1972, the only team to relocate has been the Montreal Expos, who became the Washington Nationals in 2005.
"I hope they stay baseball fans, whatever team they decide to affiliate with," Manfred said of Oakland supporters. "The piece of this particular series of events that's the most disturbing to me is the idea of fans that have supported the team losing a team. We hate that idea."
Nevada's Legislature on Wednesday approved providing taxpayer money for a proposed $1.5 billion, 30,000-seat ballpark with a retractable roof, a bill Gov. Joe Lombardo is expected to sign. The new venue would be close to Allegiant Stadium, where the NFL's Oakland Raiders moved to in 2020, and T-Mobile Arena, where the NHL's expansion Golden Knights started play in 2017.
"Obviously the passing of the legislation in Nevada — really, really important," Manfred said.
The team, whose lease at the Oakland Coliseum expires after the 2024 season, would move from the 10th-largest U.S. television market to the 40th, and stadium capacity would be the major leagues' smallest.
"When I have all of the information in that application, if and when I see concerns with respect to it, I'll talk about it publicly," Manfred said.
Fisher has not publicly discussed the move.
"We have never mandated that owners have a particular stance with respect to public availability," Manfred said.
A new stadium likely would open in 2028 at the earliest. Before then, a possible home is the 10,000-capacity Las Vegas Ballpark, home of the Triple-A Las Vegas Aviators, Oakland's top farm team.
Oakland is averaging 9,076 fans per home game, lowest among the 30 teams and one-third the average of 27,203. The A's, who last won the World Series in 1989, reached the playoffs from 2018-20 but after trading top players and slashing payroll to a big league-low $58 million, have the second-worst record in the major leagues at 19-51.
"They had a very, very good record up through the pandemic," Manfred said. "Markets that face that kind of financial difficulty often have to make hard decisions with respect to players when you have limited financial resources."
Manfred has said the A's and Tampa Bay Rays must get new ballpark agreements before expansion will be considered. MLB last added teams for 1998, and top candidates are considered to be Charlotte, North Carolina; Montreal; Nashville, Tennessee; and Portland, Oregon.
Manfred defended government stadium subsidies.
"I view baseball stadiums, because of the number of games and the economic impact we produce as a public asset," he said. "I do think that it is part of my job and it's in fact good business to have a public-private partnership to get those kind of facilities built."
Copyright 2023 The Associated Press. All rights reserved.