Court battle over interstate travel targets Utah bus stops in Nevada, California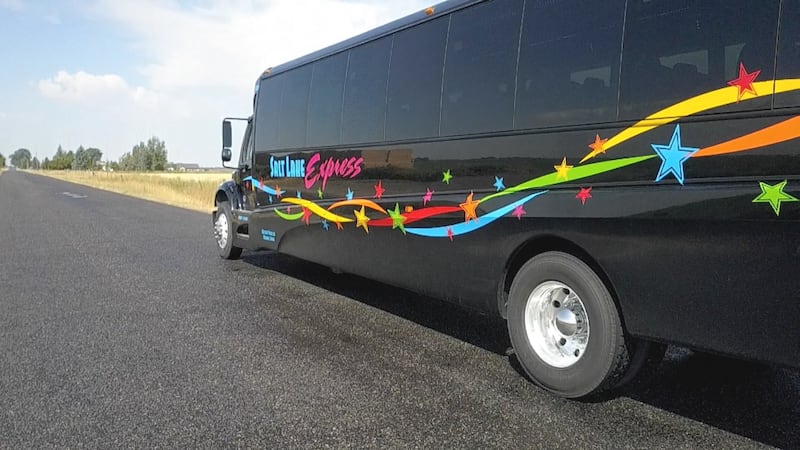 Published: Jun. 2, 2023 at 2:31 PM PDT
RENO, Nev. (AP) - A Utah-based bus company says the neighboring state of Nevada has "declared war" on its interstate travel services, seizing one of its passenger vans and leaving 20 passengers stranded with no ride based on false allegations of operating unsafe vehicles.
Nevada transportation officials argue Salt Lake Express is engaged in an illegal scheme to evade regulation of its bus lines within the state by making quick trips across the California border at stops with no customers during treks to Las Vegas. They're concerned the Utah company's failure to comply with state requirements regarding inspections and maintenance records jeopardizes passenger safety.
Conflict over the routes — stretching from northern Nevada's high desert into a California RV park in the mountains near Lake Tahoe and Death Valley nearly 400 miles (643 kilometers) away — has landed in U.S. District Court in Reno.
The company's lawyers say they've been forced to seek federal protection because "the Nevada Transportation Authority has declared war on Salt Lake Express."
"The seizure and impound of the van belonging to Salt Lake Express in Reno on May 17 ... was embarrassing and caused the company to commit the unpardonable sin for a public carrier — it left passengers stranded with no alternative way to help them," the Salt Lake Express wrote in recent court filings.
"The loss of the vehicle, the trauma to the employee driver, the stranded passengers, the constant threat of another impound seizure have combined to make the situation volatile and dangerous," they said.
Attorney General Aaron Ford and his deputies maintain the Nevada Transportation Authority "has not treated Salt Lake Express unfairly in any way."
The company's claim that the authority "has declared war on Salt Lake Express ... is the perfect opening line for the rest of their motion; full of hyperbole and flash, but short of any legal or factual basis," they wrote in recent court filings.
The dispute centers largely on disagreement over the point where intrastate travel — trips within the same state — ends, and interstate travel between states begins. The U.S. government regulates interstate travel. States have authority to impose their own rules and regulations within their borders.
Judge Robert Jones denied Salt Lake Express' emergency request this week to order Nevada to return its impounded mini-bus and issue a temporary injunction, prohibiting the state from continued harassment they say could eventually drive them out of business.
Filing deadlines remain in place next week for the case to proceed on a normal schedule, likely for months.
Salt Lake Express, owned by Western Trails Charters & Tours, says its regularly inspected fleet of more than 100 buses and vans serving eight western states are in compliance with federal regulations and not subject to the Nevada Transportation Authority's oversight.
"Every regulation the NTA seeks to impose on Salt Lake Express is duplicative of these federal regulations and requirements," its lawyers said, including background checks, drug testing and licensing.
"Salt Lake Express has spent years unsuccessfully trying to appease the NTA and to convince them that their redundant regulation was unnecessary and illegal," they wrote May 24 in the request for an emergency order. They said they've had no similar trouble in Washington, Arizona, Montana, California, Wyoming, Idaho or Utah.
The seizure at Reno-Tahoe International Airport left 20 passengers stranded on the route beginning in Reno and traveling briefly to Truckee, California, before returning to Nevada bound for Sparks, Fernley, Fallon, Hawthorne Tonopah, Beatty, California's Death Valley, Pahrump and Las Vegas, they said.
NTA imposed a $10,000 fine plus the costs of the illegal tow and storage. And while "Salt Lake Express's reputation suffered a major blow," the harm to the stranded passengers "is significant and likely not calculatable," the company's lawyers said.
"What is missing your child's final high school baseball game worth?" they asked.
The parties disagree whether the company received adequate notice of disciplinary hearings and whether its lawyers were certified to appear before the authority's commission.
In 2021-22, NTA cited the company for operating an uninspected vehicle, as well as failure to identify equipment used for intrastate commerce and maintain proper maintenance files, among other things.
This year, before the impoundment, it issued citations for allowing two drivers to drive without NTA permits, using uninspected vehicles and failing to provide requested drug test results.
"The reason plaintiff's license was suspended in the first-place stems from certain safety violations and that their vehicles having not met certain minimum requirements," Nevada's lawyers wrote May 29 in the state's opposition to the bid for emergency relief.
"Those passengers are not better off driving through the desert of Nevada in vehicles that are unsafe," they said.
The state maintains its authority is clear because "every portion of passenger transportation" occurred in Nevada, with the only interstate travel being "the morning passenger-less jaunt over the border to a California campground," lawyers wrote.
"This is classic subterfuge," they said. "Plaintiff is not actually picking up any passengers in either Truckee or Death Valley. It is not even certain the vehicles are even actually going all the way to Truckee or Death Valley."
Copyright 2023 The Associated Press. All rights reserved.