Mark Stone scores twice to lift Golden Knights past Jets 5-2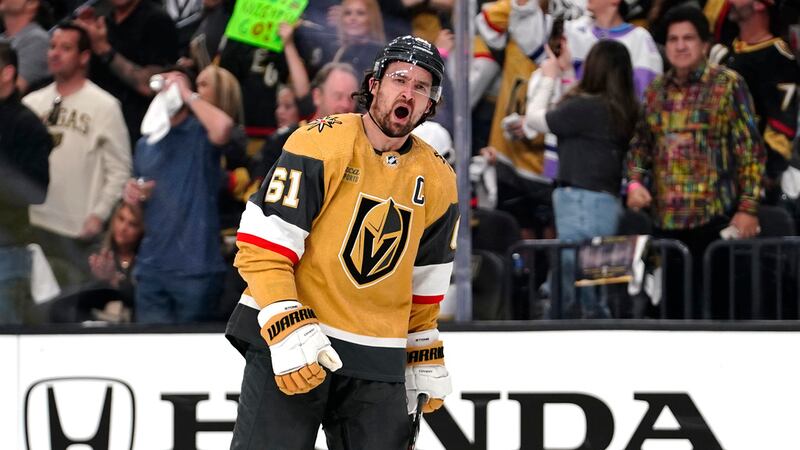 Published: Apr. 21, 2023 at 6:10 AM PDT
LAS VEGAS (AP) — In the three months Mark Stone was out of the lineup, the Golden Knights not only missed his playmaking ability, Vegas also didn't have his boisterous goal celebrations that fired up the team and the home crowd.
His ability to change a game with a timely pass or goal returned Thursday night. And with it, Stone brought his back his fist-pumping celebrations in a game the Knights badly needed.
In just his second game since returning from back surgery, Stone scored two third-period goals and assisted on another to give Vegas a 5-2 victory over the Winnipeg Jets in Game 2 to even the first-round series.
"The big-time players come up in the right moments, and that's exactly what he did," Knights defenseman Alex Pietrangelo said. "I've played with a lot of good players, but there are not many people that can do what he does on both ends of the ice. When you play with him a long time, you really appreciate the things that he does night in and night out, and he's one hell of a leader."
Chandler Stephenson and William Karlsson each had a goal and an assist, Jack Eichel scored his first career playoff goal and Phil Kessel and Pietrangelo each had two assists. Laurent Brossoit made 31 saves.
Stone's goals were his first since January. He underwent back surgery Jan. 31 and returned in time for this series.
"I don't want to miss this," Stone said. "When I got traded (from Ottawa in 2019), this is the team I want to play for, the team I want to win with, the team I want to go to war with. So just to be back in here means the world to me."
Adam Lowry and Kevin Stenlund each scored for the Jets, and Connor Hellebuyck made 34 stops.
Game 3 is Saturday afternoon at Winnipeg.
"They were the better team tonight," Jets coach Rick Bowness said. "They deserved to win that game, there's no question. Did we make it too easy on them? Yeah, we did. That's the most disappointing thing is the execution and then the goals that we gave up the way we gave them up. That's disappointing, but we'll fix it. We'll get ready for Saturday."
Lowry scored on a power play at 9:18 of the first period, redirecting Neal Pionk's shot from the point to give Winnipeg a 1-0 lead. It was his third goal in a row. He ended the series opener, a 5-1 Jets victory, with a power-play goal and empty-netter in the final 1:21.
The Jets dominated the first period by outshooting Vegas 17-8, and tensions were high with three fights breaking out and 18 minutes of penalties handed out.
"In the first period, we weren't on our game at all," Knights coach Bruce Cassidy said. "I think some of our veteran players pulled us into the fight, and we had an honest conversation after the first period about that."
The Knights came out stronger in the second period and took their first lead of the series on Karlsson's shot from the slot and Eichel's redirect from 21 feet away.
Winnipeg evened the game at 2 on Stenlund's goal off a 2-on-1 breakaway with 3:59 left.
The Knights broke open the game with three third-period goals.
BLOODIED BUT NOT BOWED
The first two games have not easy from a physical standpoint for the Jets.
Morgan Barron took a skate to his face in Game 1 dangerously close to his right eye that required more than 75 stitches. Then on Thursday, Hellebuyck took a shot to the helmet off Eichel's stick that put bloodied his face near his left eye.
It was a quite a sequence for Hellebuyck, who moments earlier made a lunging glove save off a power-play shot from Stephenson. He somehow kept the puck in front of the goal line to keep the Knights off the scoreboard.
PERSONNEL MOVES
Jets forward Nikolaj Ehlers (upper-body injury) remained out. Winnipeg coach Rick Bowness has been calling Ehlers day to day. Ehlers last played April 11 at Minnesota, but said before this series he felt ready to go.
Adin Hill was the Knights' backup goalie in place of Jonathan Quick, who entered the playoffs at No. 2. Hill was 16-7-1 with a 2.50 goals-against average and a .915 save percentage, but hasn't played since March 7 because of a lower-body injury.
Knights defenseman Brayden McNabb went to the locker room midway through the third period after delivering a big check into the boards.
Copyright 2023 The Associated Press. All rights reserved.